Friday, December 16, 2016
Massachusetts Defeated By Arizona State, 4-1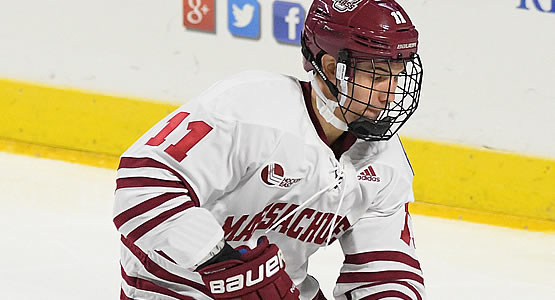 Freshman forward Griff Jeszka scored a goal for the Minutemen
| | | | | | | |
| --- | --- | --- | --- | --- | --- | --- |
| Prd | Time | Team | Score | Type | Scored By | Assists |
| 2nd | 14:42 | ASU | 1-0 | EV | Anthony Croston (2) | Liam McGing/1, Dylan Hollman/7 |
| 3rd | 9:53 | ASU | 2-0 | EV GW | Joe Lappin (2) | Wade Murphy/7, Drew Newmeyer/4 |
| 3rd | 12:25 | ASU | 3-0 | EV | Anthony Croston (3) | Louie Rowe/8 |
| 3rd | 16:40 | UMA | 1-3 | PP | Griff Jeszka (4) | Kurt Keats/7, Jake McLaughlin/4 |
| 3rd | 19:42 | ASU | 4-1 | EV EN | David Norris (3) | Brett Gruber/3 |
| | | | | |
| --- | --- | --- | --- | --- |
| Scoring | 1st | 2nd | 3rd | Final |
| Arizona State | 0 | 1 | 3 | 4 |
| Massachusetts | 0 | 0 | 1 | 1 |
| | | | | |
| --- | --- | --- | --- | --- |
| Shots on Goal | 1st | 2nd | 3rd | SOG |
| Arizona State | 6 | 8 | 8 | 22 |
| Massachusetts | 6 | 13 | 12 | 31 |
| | | | |
| --- | --- | --- | --- |
| Team Stats and Records | PP | PIM | SHGF |
| Arizona State (6-13-0) | 0/1 | 4/8 | 0 |
| Massachusetts (4-11-2) | 1/4 | 2/4 | 0 |
| | | | | | | |
| --- | --- | --- | --- | --- | --- | --- |
| Arizona State Goaltending | MIN | GA | 1 | 2 | 3 | Saves |
| Robert Levin (W, 2-4-0) | 60:00 | 1 | 6 | 13 | 11 | 30 |
| | | | | | | |
| --- | --- | --- | --- | --- | --- | --- |
| Massachusetts Goaltending | MIN | GA | 1 | 2 | 3 | Saves |
| Ryan Wischow (L, 3-7-2) | 57:46 | 3 | 6 | 7 | 5 | 18 |
| Empty Net | 2:14 | 1 | | | | |
AMHERST, Mass. - Freshman forward Griff Jeszka scored a goal but Massachusetts was downed by Arizona State, 4-1, on Friday night at Mullins Center.
THE BASICS:
RESULT: Arizona State 4, Massachusetts 1
LOCATION: Mullins Center (Amherst, Mass.)
RECORDS: Massachusetts (4-11-2); Arizona State (6-13-0)
THE LEAD: University of Massachusetts hockey was unable to overcome a 3-0 deficit and went on to suffer a 4-1 setback to Arizona State on Friday night at the Mullins Center. The Minutemen added a power-play goal late, but could not convert several chances with an extra skater on before the Sun Devils capped the scoring with an empty net goal.
FIRST PERIOD:
The teams played an even first period with minimal whistles and no scoring. UMass earned the first power play chance of the evening with 1:05 to go in the stanza following a cross checking penalty to Tyler Busch.
SECOND PERIOD:
Freshman Ryan Wischow made a big glove save with 18:55 on the clock in the second to keep the squads in a scoreless deadlock. The Sun Devils then took a 1-0 lead at the 14:42 mark. Wischow turned aside the initial shot by Liam McGing, but the puck kicked right to Anthony Croston in the slot for the tally.
THIRD PERIOD:
Senior Ray Pigozzi came narrowly close to tying the score around the 15-minute mark as Steven Iacobellis set him up with a breakaway attempt, steps out of the penalty box. However, ASU netminder Robert Levin denied Pigozzi at the doorstep. Shortly after, the Sun Devils added a second goal on an odd-man rush with Wade Murphy and Drew Newmeyer setting up Joe Lappin at 9:53. Louie Rowe then found Croston with an open net at the opposite post for his second of the contest 12:25 into the period. Freshman Griff Jeskza put UMass on the board with a power-play goal from Kurt Keats with 3:20 remaining and David Norris added the empty netter for the Sun Devils at 19:42.
INSIDE THE NUMBERS:
- The Minutemen out-shot Arizona State, 31-22. Wischow made 18 saves for UMass and Robert Levin had 18 stops for the Sun Devils.
- UMass won 30 of 55 faceoffs (54.5%) in the contest, led by Jeszka (7 for 8, 87.5%) and Iacobellis (12 for 21, 57.1%).
- The Minutemen went 1-for-4 on the power play on the evening, while ASU was 0-for-1.
- Jeszka's goal marked his fourth of the season, giving him nine points on the year to lead UMass' freshman class.
- Keats' assist was his seventh of the season, tying the team lead for helpers. It also marked his 11th point of the year, one off his 2015-16 total of 12 in 35 games.
UP NEXT: UMass and Arizona State will close out their weekend set tomorrow, Sat., Dec. 17, at 7:00 p.m. at the Mullins Center