Friday, December 30, 2016
Jeszka Sends Massachusetts Past Alabama Huntsville In Overtime, 2-1
Freshman forward Griff Jeszka scores game-winning goal at 2:10 of overtime for Minutemen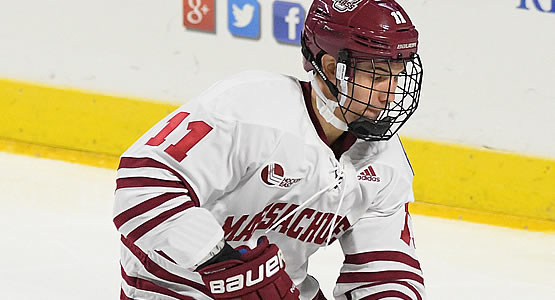 Freshman forward Griff Jeszka scored the game-winning goal for the Minutemen
| | | | | | | |
| --- | --- | --- | --- | --- | --- | --- |
| Prd | Time | Team | Score | Type | Scored By | Assists |
| 1st | 15:28 | UMA | 1-0 | EV | Jake Horton (1) | Kurt Keats/8, Steven Iacobellis/7 |
| 2nd | 3:35 | ALH | 1-1 | EV EA | Max McHugh (7) | Josh Kestner/11, Jordan Larson/7 |
| OT | 2:10 | UMA | 2-1 | EV GW | Griff Jeszka (5) | William Lagesson/5, Niko Hildenbrand/1 |
| | | | | | |
| --- | --- | --- | --- | --- | --- |
| Scoring | 1st | 2nd | 3rd | OT | Final |
| Alabama Huntsville | 0 | 1 | 0 | 0 | 1 |
| Massachusetts | 1 | 0 | 0 | 1 | 2 |
| | | | | | |
| --- | --- | --- | --- | --- | --- |
| Shots on Goal | 1st | 2nd | 3rd | OT | SOG |
| Alabama Huntsville | 10 | 11 | 9 | 0 | 30 |
| Massachusetts | 7 | 6 | 5 | 1 | 19 |
| | | | |
| --- | --- | --- | --- |
| Team Stats and Records | PP | PIM | SHGF |
| Alabama Huntsville (7-12-2) | 0/4 | 3/6 | 0 |
| Massachusetts (5-12-2) | 0/3 | 4/8 | 0 |
| | | | | | | | |
| --- | --- | --- | --- | --- | --- | --- | --- |
| Alabama Huntsville Goaltending | MIN | GA | 1 | 2 | 3 | OT | Saves |
| Jordan Uhelski (L, 5-5-2) | 62:05 | 2 | 6 | 6 | 5 | 0 | 17 |
| Empty Net | 0:05 | 0 | | | | | |
| | | | | | | | |
| --- | --- | --- | --- | --- | --- | --- | --- |
| Massachusetts Goaltending | MIN | GA | 1 | 2 | 3 | OT | Saves |
| Ryan Wischow (W, 4-8-2) | 61:31 | 1 | 10 | 10 | 9 | 0 | 29 |
| Empty Net | 0:39 | 0 | | | | | |
MINNEAPOLIS, Minn. - Freshman forward Griff Jeszka scored at 2:10 of overtime to propel Massachusetts to a 2-1 win against Alabama Huntsville in the opening game of the Mariucci Classic on Friday at Mariucci Arena.
THE BASICS:
RESULT: Massachusetts 2, Alabama Huntsville 1 (OT) - Mariucci Classic
LOCATION: Mariucci Arena (Minneapolis, Minn.)
RECORDS: Massachusetts (5-12-2); Alabama Huntsville (7-13-2)
THE LEAD: Freshman Griff Jeszka put the puck into an open net for the game winner 2:10 into overtime to lift University of Massachusetts hockey to a 2-1 victory in the Mariucci Classic on Friday afternoon at Mariucci Arena. The Minutemen will face either Mercyhurst or Minnesota in the championship game tomorrow at either 5:00 p.m. or 8:00 p.m. ET.
FIRST PERIOD:
With few scoring chances early for either team, senior captain Steven Iacobellis kept it a 0-0 game, blocking a shot in front of the net with 8:35 on the clock and UAH coming off a power play opportunity. Minnesota native Jake Horton put the Minutemen on top 15:28 into the period, scoring with a shot from the right point after receiving the puck from sophomore Kurt Keats off a Iacobellis offensive zone faceoff win.
SECOND PERIOD:
Max McHugh leveled the score for the Chargers 3:35 into the second period with an extra skater on for a delayed penalty. McHugh redirected a puck past netminder Ryan Wischow from Josh Kestner and Jordan Larson.
THIRD PERIOD:
UMass killed off a pair of late penalties in a scoreless third and drew a power play of its own on a shorthanded breakaway chance by Ray Pigozzi around the six-minute mark. Alabama Huntsville out-shot the Minutemen, 9-5 in the period.
OVERTIME:
On a UMass rush up the ice, a pass from sophomore William Lagesson and freshman Niko Hildenbrand found Jeszka alone in front for the game winner 2:10 into the extra frame.
INSIDE THE NUMBERS:
- UMass held UAH to a 0-for-4 night on the power play, while the Minutemen were 0-for-3. The Chargers finished the contest with a 30-19 shot advantage.
- Horton's goal was his first tally since Jan. 16, 2015, a span of 41 games, and marked his fifth of his career.
- Keats' team-leading eighth assist of the season matched his 2015-16 total of eight in 35 games. He has equaled his freshman year point total (12) and extended his point-scoring streak to three straight, as well.
- Iacobellis' assist marked his 50th of his career, 29th all-time in program history. He is now tied for 30th all-time with 77 career points.
- Jeszka's goal, his fifth of the season, pulled him into a tie for the team lead with Austin Plevy. Jeszka paces UMass' freshman class in goals and points (10).
- Lagesson's assist was his fifth of the season, equaling his freshman year total of five in 27 games in 2015-16.
- Hildenbrand's assist marked his first of his collegiate career and his fourth point on the year.
- Wischow earned the win (4-8-2) in net for UMass and finished with 29 saves.
UP NEXT: UMass awaits the winner of tonight's Mariucci Classic matchup between host Minnesota and Mercyhurst.