Saturday, December 31, 2016
Petersen Stops 34 Shots As Notre Dame Blanks Alaska, 5-0
Junior goaltender Cal Petersen makes 34 saves for Fighting Irish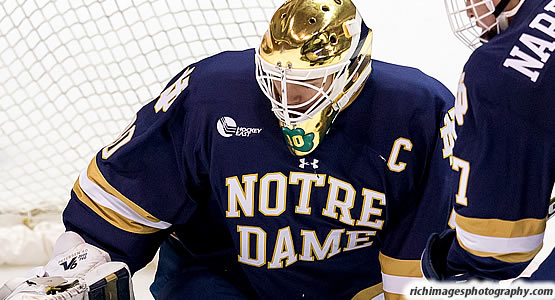 Junior goaltender Cal Petersen made 34 saves for the Fighting Irish
| | | | | | | |
| --- | --- | --- | --- | --- | --- | --- |
| Prd | Time | Team | Score | Type | Scored By | Assists |
| 1st | 1:24 | NDM | 1-0 | EV GW | Dylan Malmquist (4) | Anders Bjork/16, Jordan Gross/9 |
| 2nd | 4:21 | NDM | 2-0 | EV | Cam Morrison (5) | Jordan Gross/10, Dennis Gilbert/7 |
| 2nd | 7:09 | NDM | 3-0 | PP | Andrew Oglevie (9) | Bobby Nardella/9, Jake Evans/12 |
| 3rd | 14:24 | NDM | 4-0 | EV | Cal Burke (1) | Cam Morrison/7 |
| 3rd | 18:49 | NDM | 5-0 | PP | Dylan Malmquist (5) | Anders Bjork/17, Jordan Gross/11 |
| | | | | |
| --- | --- | --- | --- | --- |
| Scoring | 1st | 2nd | 3rd | Final |
| Alaska | 0 | 0 | 0 | 0 |
| Notre Dame | 1 | 2 | 2 | 5 |
| | | | | |
| --- | --- | --- | --- | --- |
| Shots on Goal | 1st | 2nd | 3rd | SOG |
| Alaska | 11 | 10 | 13 | 34 |
| Notre Dame | 10 | 18 | 10 | 38 |
| | | | |
| --- | --- | --- | --- |
| Team Stats and Records | PP | PIM | SHGF |
| Alaska (6-13-2) | 0/5 | 6/12 | 0 |
| Notre Dame (10-6-2) | 2/5 | 6/12 | 0 |
| | | | | | | |
| --- | --- | --- | --- | --- | --- | --- |
| Alaska Goaltending | MIN | GA | 1 | 2 | 3 | Saves |
| Davis Jones (L, 1-5-1) | 59:46 | 5 | 9 | 16 | 8 | 33 |
| Empty Net | 0:14 | 0 | | | | |
| | | | | | | |
| --- | --- | --- | --- | --- | --- | --- |
| Notre Dame Goaltending | MIN | GA | 1 | 2 | 3 | Saves |
| Cal Petersen (W, 10-6-2) | 60:00 | 0 | 11 | 10 | 13 | 34 |
NOTRE DAME, Ind. -- The 12th-ranked University of Notre Dame hockey team returned from a 21-day hiatus lacking any of the dust that might have accumulated over the holiday break, defeating Alaska 5-0 on Saturday at the Compton Family Ice Arena (4,149).
The Irish got two goals from sophomore Dylan Malmquist, while freshman Cam Morrison, sophomore Andrew Oglevie and freshman Cal Burke also scored.
Junior goaltender Cal Petersen collected his third shutout of the season, recording a season-high 34 saves. It was the eighth shutout of his career.
HOW IT HAPPENED
The Irish jumped out to a quick lead on Malmquist's first goal at the 1:24 mark of the first period, with assists by juniors Anders Bjork and Jordan Gross. The Nanooks appeared to have evened the score at the 16:10 mark, but the apparent goal by Colton Leiter was waved off after it was ruled that the puck hit the crossbar and did not cross the goal line.
Notre Dame extended its lead at 4:21 of the second period, when Morrison chipped in his fifth goal of the year, with assists by Gross and sophomore Dennis Gilbert. Oglevie fired a power-play goal less than three minutes later at 7:09, aided by sophomore Bobby Nardella and junior Jake Evans.
With the Irish holding a 3-0 lead, the Nanooks threatened midway through the third period when they found themselves with 1:24 on a 5-on-3 power-play opportunity. Notre Dame killed off the chance, however, before surging again to add to its lead.
Burke put the Irish up 4-0 with his first career goal at the 14:24 mark of the third, with an assist by Morrison. The Irish converted on a second power play when Malmquist deflected a shot by Bjork to extend Notre Dame's lead to 5-0 at 18:49.
The Irish were 2-for-5 on power play opportunities, while the Nanooks went 0-for-4.
Nanook goaltender Davis Jones finished with 33 saves.
COACH JACKSON'S THOUGHTS
On how team responded after three-week break...
"I thought we were a little sluggish early, but as the game progressed I thought we got better. The first period we were back on our heels a bit. (Connor) Hurley went out of the lineup this morning, he got dinged up, so the lines got changed at the last minute. Plus, coming back from three weeks off between games, (Alaska) only had two weeks off but even so, it's always a little bit of holiday hockey."
On Cal Petersen's 34-save performance returning from holiday break...
"He needed to be good, it's not like they didn't have chances. Especially on our PK, he saved the day a few times. A year ago (this week) he stopped 90 shots in two games in Denver. He's a diligent kid, and he probably did some work while he was home. He didn't lie around the whole time and eat cookies and cake, so I'm sure he probably stayed sharp physically as much as he could."
Starting the second semester with a strong performance...
"We start off with four nonconference games, which can be good or bad depending on how you look at it. The most important thing is that we've got to gear up toward the Hockey East schedule here, but these games are just as important in the big picture. The biggest thing is trying to get back to playing the consistent way that we played against Boston College and UMass Lowell and Minnesota Duluth, finding a way to do that on a nightly basis."
UP NEXT
The Fighting Irish close out the weekend series against Alaska on Jan. 1 (2:05 p.m. ET) before playing host to Michigan Tech next weekend (January 6-7).
To purchase tickets visit UND.com/BuyTickets.
NOTRE DAME - ALASKA GAME NOTES
-Junior goaltender Cal Petersen made his 68th-consecutive start in the Notre Dame net.
- Jordan Gross skated in his 97th-consecutive game, dating back to the first game of his freshman season.
- Gross had three assists in the game, marking his third multi-point game of the season and the 18th of his career. His three points tied his career best, last set October 7 against Arizona State.
- Notre Dame improved to 7-0-0 when leading after two periods of play this season.
- With two assists, Anders Bjork extended his point streak to four games (4-3-7).
- With an assist, Jake Evans extended his point streak to four games (2-2-4).
- With a power-play goal, Andrew Oglevie extended his point streak to four games (3-2-5). He has scored a goal in each of the last three contests.
- With a goal, Cam Morrison extended his point streak to three games (1-2-3) and scored his first goal since November 25 against Holy Cross in the first round of the Shillelagh Tournament.
- Dylan Malmquist bookended the Irish scoring efforts, recording the first and last goals for Notre Dame. The sophomore gave the Irish a 1-0 lead at 1:24 of the first period, notching his first goal since October 15 at Minnesota Duluth. His last goal came at 18:49 of the third period, giving him his first multi-goal game of the season and matching a career high in goals (last against Minnesota Duluth, October 24, 2015).
- With a goal at the 14:24 mark of the third period, Cal Burke scored his first collegiate goal.