Massachusetts Shut Out By AIC, 3-0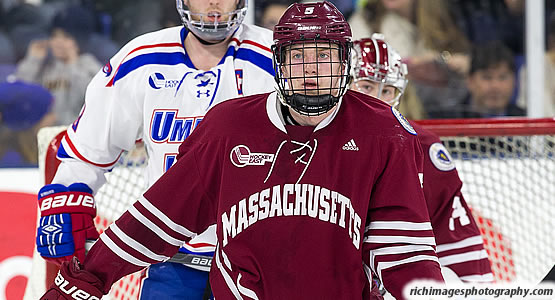 Massachusetts sophomore defenseman Callum Fryer (pictured)
| | | | | | | |
| --- | --- | --- | --- | --- | --- | --- |
| Prd | Time | Team | Score | Type | Scored By | Assists |
| 2nd | 2:37 | AIC | 1-0 | EV GW | Billy Vizzo (1) | Marc Dubeau/2, Jānis Jaks/3 |
| 3rd | 1:36 | AIC | 2-0 | EV | Johnny Mueller (3) | Martin Mellberg/6 |
| 3rd | 15:55 | AIC | 3-0 | EV | Joel Kocur (1) | Jānis Jaks/4, Kyle Stephan/2 |
| | | | | |
| --- | --- | --- | --- | --- |
| Scoring | 1st | 2nd | 3rd | Final |
| American International | 0 | 1 | 2 | 3 |
| Massachusetts | 0 | 0 | 0 | 0 |
| | | | | |
| --- | --- | --- | --- | --- |
| Shots on Goal | 1st | 2nd | 3rd | SOG |
| American International | 6 | 8 | 7 | 21 |
| Massachusetts | 12 | 7 | 8 | 27 |
| | | | |
| --- | --- | --- | --- |
| Team Stats and Records | PP | PIM | SHGF |
| American International (4-9-6) | 0/5 | 7/14 | 0 |
| Massachusetts (5-14-2) | 0/7 | 5/10 | 0 |
| | | | | | | |
| --- | --- | --- | --- | --- | --- | --- |
| American International Goaltending | MIN | GA | 1 | 2 | 3 | Saves |
| Zackarias Skog (W, 2-5-4) | 60:00 | 0 | 12 | 7 | 8 | 27 |
| | | | | | | |
| --- | --- | --- | --- | --- | --- | --- |
| Massachusetts Goaltending | MIN | GA | 1 | 2 | 3 | Saves |
| Nic Renyard (L, 1-5-0) | 59:55 | 3 | 6 | 7 | 5 | 18 |
| Empty Net | 0:05 | 0 | | | | |
AMHERST, Mass. - Massachusetts poured 27 shots at AIC netminder Zackarias Skog but could not break through as the Minutemen were downed, 3-0, on Tuesday at Mullins Center.
THE BASICS:
RESULT: American International 3, Massachusetts 0
LOCATION: Mullins Center (Amherst, Mass.)
RECORDS: Massachusetts (5-14-2); American International (4-9-6)
THE LEAD: A goal in the second and two in the third from three different scorers helped carry American International past the University of Massachusetts hockey team on Tuesday night at the Mullins Center. Zackarias Skog backstopped the Yellow Jackets to the shutout with 27 saves.
FIRST PERIOD:
The teams played a scoreless first with UMass holding a 12-6 shot advantage. AIC threatened with a series of chances seven minutes in, but sophomore Nic Renyard came up with the string of stops. The Minutemen had an extended 5-on-3 with Kyle Stephan heading to the box for tripping at 12:33 for the Yellow Jackets, soon joined by Hugo Reinhardt and Jared Pike who took penalties 12:59 into the frame. UMass was unable to convert on the opportunity, though, finishing the period 0-for-3 with the man advantage.
SECOND PERIOD:
AIC jumped on the board 2:37 into the second period. Marc Dubeau's initial shot was stopped by sophomore Nic Renyard, but a second effort from Billy Vizzo stuffed the puck in at the post.
THIRD PERIOD:
The Yellow Jackets pushed the advantage to 2-0 early in the third. Johnny Mueller carried a feed from Martin Mellberg down the ice and drove the net and his shot deflected in, finding the space between Renyard and the post at 1:36. AIC later completed the scoring at the 15:55 mark as Joel Kocur fired home a one-timer from the top of the crease from Janis Jaks and Kyle Stephan.
INSIDE THE NUMBERS:
- UMass out-shot AIC, 27-21, and won 33 of 58 (56.9%) faceoffs in the contest, led by senior Steven Iacobellis (12 for 19, 63.2%).
The Minutemen went 0-for-7 on the power play on the evening, while the Yellow Jackets were 0-for-5.
- Renyard, making his first start since Nov. 18 at New Hampshire, totaled 18 saves in net for UMass.
UP NEXT: UMass will next travel to Fenway Park this Saturday, Jan. 7, where the squad will face. No. 5 Boston University in a Frozen Fenway matchup at 1:30 p.m.