Providence College Shuts Out Acadia, 3-0
Sophomore goaltender Hayden Hawkey makes 18 saves for Friars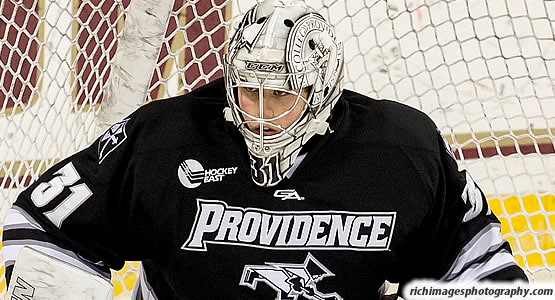 Sophomore goaltender Hayden Hawkey made 18 saves for the Friars
| | | | | | | |
| --- | --- | --- | --- | --- | --- | --- |
| Prd | Time | Team | Score | Type | Scored By | Assists |
| 1st | 1:59 | PRV | 1-0 | EV GW | Ryan Tait | Kasper Björkqvist, Scott Conway |
| 1st | 9:57 | PRV | 2-0 | EV | Bryan Lemos | Scott Conway, Josh Monk |
| 3rd | 5:54 | PRV | 3-0 | PP | Scott Conway | Josh Monk, Anthony Florentino |
| | | | | |
| --- | --- | --- | --- | --- |
| Scoring | 1st | 2nd | 3rd | Final |
| Acadia | 0 | 0 | 0 | 0 |
| Providence | 2 | 0 | 1 | 3 |
| | | | | |
| --- | --- | --- | --- | --- |
| Shots on Goal | 1st | 2nd | 3rd | SOG |
| Acadia | 4 | 12 | 2 | 18 |
| Providence | 7 | 4 | 16 | 27 |
| | | | |
| --- | --- | --- | --- |
| Team Stats and Records | PP | PIM | SHGF |
| Acadia | 0/8 | 14/39 | 0 |
| Providence | 1/12 | 9/18 | 0 |
| | | | | | | |
| --- | --- | --- | --- | --- | --- | --- |
| Acadia Goaltending | MIN | GA | 1 | 2 | 3 | Saves |
| Robert Steeves (L) | 44:47 | 2 | 5 | 2 | 9 | 16 |
| Brandon Glover | 15:13 | 1 | 0 | 2 | 6 | 8 |
| | | | | | | |
| --- | --- | --- | --- | --- | --- | --- |
| Providence Goaltending | MIN | GA | 1 | 2 | 3 | Saves |
| Hayden Hawkey (W) | 59:53 | 0 | 4 | 12 | 2 | 18 |
| Empty Net | 0:07 | 0 | | | | |
PROVIDENCE, R.I. - The tenth-ranked Providence College men's hockey team shutout the Acadia University Axemen, 3-0, in exhibition play at Schneider Arena on Sunday afternoon.
Sophomore transfer Scott Conway paced the Friars with a goal and two assists, while sophomore netminder Hayden Hawkey turned away 18 shots for the shutout.
Senior Josh Monk also chipped in offense with two assists. Kasper Björkqvist and Anthony Florentino also added helpers for the Friars on Sunday.
The Friars got things started just 1:59 into the first as Ryan Tait jammed home a rebound after strong work down low in the zone by freshman Björkqvist and Conway.
Providence extended its lead to 2-0 at 9:57 of the first as Bryan Lemos had a rebound off a Scott Conway shot carom in off his shin pad and into the back of the net.
Axemen netminder Robert Steeves turned away 16 shots in 44:47 of play before giving way to Brandon Glover, who made eight saves.
After a scoreless middle frame, the Friar power play connected in the third period as Conway curled to the top of the left circle and fired a wrist shot off the post and in to make it a 3-0 game at the 5:54 mark of the third. The Friars controlled the play in the final period, outshooting the Axemen, 16-2.
Matthew Pufahl led the Axemen with four shots on goal, while Josh Monk and Brandon Duhaime each paced the Friars with three shots.
Up next, the Friars open the 2016-17 regular season with a doubleheader against Miami University next weekend (Oct. 7-8). Puck drop for both games will be 7:05 p.m.
Notes: Power Plays - Acadia (0/6), Providence (1-10). Final shots on goal: 27-18 in favor of the Friars.