Monday, November 30, 2009
SPILLANE, VERMONT SHUT OUT YALE, 1-0
Senior Mike Spillane makes 26 saves for the Catamounts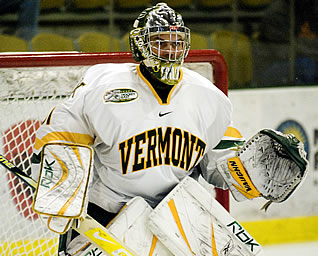 Vermont's Mike Spillane earned a shutout with 26 saves
BURLINGTON, Vt. - Senior Mike Spillane (Bow, N.H.) made 26 saves and freshman David Pacan (Ottawa, Ont.) scored for the third straight game to lift No. 19 Vermont to a 1-0 shutout of No. 10 Yale at Gutterson Fieldhouse in a rematch of last year's NCAA Tournament first round game. The Catamounts improved to 6-5-1 (4-4-1) with the win while the Bulldogs dropped to 5-3-2 (2-1-2 ECAC).
The Catamounts went 6-for-6 on the penalty kill and blocked 17 shots, including nine in the final period. Vermont improved to 6-0 on the season when holding its opponent scoreless on the man advantage. The Catamounts are 29-for-29 on the penalty kill in their six wins.
"I don't think we started off great tonight," Vermont head coach Kevin Sneddon said. "I thought we were a little bit flat, but we did a great job of staying focused and sticking with our systems, and not having individual efforts. That's one of the most potent offenses you'll ever see and we shut them down. So, very pleased with our effort defensively; offensively, we did some nice things, we just maybe didn't capitalize as much."
Spillane kept the game scoreless in the opening period when he made a spectacular save on a shorthanded bid by Yale senior Marc Arcobello with 45 seconds left. Spillane sprawled out across the goal line to make a stick save on Arcobello's wrap around attempt.
Vermont went in front at 15:35 of the second period when Pacan knocked in a rebound at the right post after a scrum in front. Initially, the play was not ruled a goal on the ice but after a brief video review it was determined a goal. Senior Brayden Irwin (Toronto, Ont.) and junior Justin Milo (Edina, Minn.) both assisted.
"We had a lot of pressure in front of the net and the puck was just bouncing," Pacan said. "I just shot the puck and it bounced again and off the bar and in. So, it was a lucky goal but I think we did real good down low to get that goal."
Yale's best opportunity to tie the game started with 40 seconds to play in the second period. A second straight Vermont penalty gave the Bulldogs a 5-on-3 power play for 1:21. However, the Catamounts were able to keep the nation's top ranked offensive team off the scoreboard.
"(Drew) Mackenzie, (Patrick) Cullity and (Brian) Roloff killed the first 59 seconds of the 5-on-3 at the end of the period and then we stuck with the same three because they just looked like they knew what they were doing very well," Sneddon said. "They were in sync together. That was obviously the turning point I felt in the game. We knocked that down, we knocked down the 5-on-4, and I think we gained energy from it."
Just over three minutes into the final period Yale had another chance for the equalizer. Yale sophomore Nick Jaskowiak fired a one timer from the right circle but Spillane went post to post to make the save.
"Obviously anytime you get a shutout it's not just you," Spillane said. "I think the last 5-10 minutes of that third period we really showed how good we can be when we want to lock it down."
Vermont out shot Yale 27-26 to win its fifth straight game against the Bulldogs. Spillane's shutout was his second this season and his second in his last four starts.
The Catamounts return to action on Friday at 7 p.m. at Boston University before returning home to play New Hampshire on Sunday at 3 p.m. on ESPNU.
NOTES: Check back to www.UVMathletics.com for game highlights and postgame comments from Kevin Sneddon, Mike Spillane and David Pacan ... Pacan had a team-high five shots ... Irwin's assist gave him a team leading 12 points on the season ... Chris McCarthy went 9-for-13 on face offs ... Vermont is 4-3-1 against ranked teams this season ... The all-time series between the Catamounts and Bulldogs is knotted up at 26-26-4 ... Vermont is 83-5-11 in its last 99 games when leading after two periods.