VERMONT EVENS SERIES WITH 1-0 WIN AT NEW HAMPSHIRE
Sophomore Rob Madore earns shutout with 17 saves for Catamounts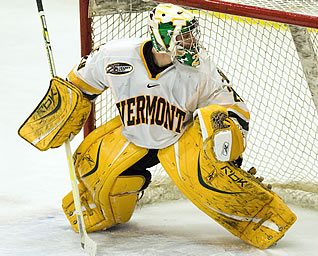 Rob Madore made 17 saves for the Catamounts
DURHAM, N.H. - Senior goaltender Brian Foster (Pembroke, N.H.) made 24 saves, but David Pacan's third-period goal lifted the 19th-ranked and eighth-seeded University of Vermont passed 10th-ranked and top-seeded University of New Hampshire menís ice hockey team, 1-0, in the second game of the team's best-of-three Hockey East quarterfinals series Saturday night at the Whittemore Center. The two teams will decided the series when they meet again Sunday at 7 p.m. at the Whittemore Center.
The Wildcats fell to 17-12-7 overall, while the Catamounts improved to 16-13-7.
With 14:44 remaining in the final period, Pacan received a feed from Jonathan Higgins in the right slot and lifted the puck over the left shoulder of Foster and into the back of the net for what would be the game winner.
UNH forced Vermont goaltender Rob Madore to make six saves the rest of the way, including one in the final 52 seconds after the Wildcats had pulled Foster for an extra attacker, but he was up to the task as he kept the 'Cats off the board.
The Wildcats' best chance came in the middle stanza with just over six minutes to play when junior Paul Thompson (Derry, N.H.) broke into the zone on the left and slid a pass to the right slot where classmate Phil DeSimone (East Amherst, N.Y.) rifled a shot that Madore erased when he dove to his left and corralled the puck.
The post, not Madore, neutralized UNH's best scoring opportunity of the opening period when with just over a minute left senior Bobby Butler (Marlboro, Mass.) scooped up the rebound off a DeSimone attempt and wristed a shot by Madore that rang off the left pipe.
The Catamounts, who tested Foster with 11 shots in the period, but skated to the locker room with nothing to show for it, saw their best opportunity go by the boards when Foster stopped Chris McCarthy on the doorstep. Foster again came up big in the middle stanza as he made seven saves.
UVM held a 25-17 shot advantage including a 7-3 edge in the second period. Vermont was 0-4 on the power play, while New Hampshire was 0-3 in its extra-skater opportunities.
UNH and Vermont square off in game three of the best-of-three Hockey East quarterfinal series on Sunday night (7 p.m.) at Whittemore Center. Tickets are still available for game three and can be purchased online at www.UNHWildcats.com or by visiting the Whittemore Center Box Office on game night. For more information including links to live audio, live video, live stats and more log on to www.UNHWildcats.com.