Tuesday, December 29, 2009
MASSACHUSETTS RALLIES PAST UNION, 4-3
Casey Wellman scores twice - including late game-winner - for UMass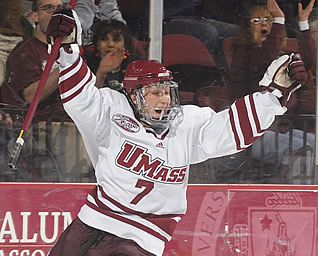 Casey Wellman scored two goals for UMass
STORRS, Conn. - A two-goal effort from Casey Wellman and 36 saves from Paul Dainton sparked a come-from-behind 4-3 win for #15 UMass over #18 Union in the opening game of the UConn Toyota Classic on Tuesday afternoon. The Minutemen used a three-goal third period to halt the Dutchmen's nine-game unbeaten streak which was the second best in the country. UMass will face the winner of UConn and Bentley on Wednesday night at 7 PM.
UMass improves to 11-5-0 on the season, while Union falls to 8-4-5 overall. The 11 wins for the Minutemen are the most in program history for the first calendar half of a season.
The Dutchmen carried much of the play in the first and second periods of Tuesday's game. A 5-on-3 power play goal by Jason Walters at the 15:57 mark of the first period gave Union a 1-0 lead going into the first intermission.
In the second period, Springfield's T.J. Syner tied the game thanks to a nifty cross zone feed from James Marcou (3 assists) at the 12:11 mark.
Union took advantage of a special team's miscue to go up 2-1 just a minute, 35 seconds later. Andrew Buote scored a shorthanded goal after a misplayed UMass pass leaked free into the neutral zone.
With seven seconds remaining in the second period, Jeremy Walsh tallied a sneaky power play goal to put Union up 3-1. The goal seemed to be initially saved by Dainton but then deflected off a UMass defenseman into the back side of the net.
The third period, however, was all UMass scored twice within a span of one minute, 21 seconds. Wellman scored his first goal of the game after a pair of matching minor penalties made it 4-on-4 hockey opening up the ice. At the 6:58 mark of the period, Michael Lecomte won a face-off cleanly to Will Ortiz who blasted a shot from the top of the left circle to tie the game.
Wellman added his second goal of the game at the 15:21 mark to put UMass up 4-3. The goal stood as the game-winner which is Wellman's national leading 4th of the season.
With 1:37 remaining in the game, Union pulled goalie Keith Kinkaid for the extra skater but Dainton and the UMass defense stood tall. Dainton made six of his 36 saves in that span with his defensemen blocking several other shots on net.
This was the third time this season that UMass has put together a three-goal third period and improves the Minutemen scoring advantage to 25-to-10 for that period this season.