Saturday, December 12, 2009
ROLOFF, MADORE LEAD VERMONT PAST ST. LAWRENCE, 3-0
Brian Roloff scores twice and Rob Madre makes 21 saves for Catamounts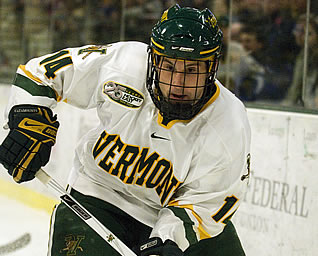 Brian Roloff scored two goals for the Catamounts
BURLINGTON, Vt. - Sophomore Rob Madore (Pittsburgh, Pa.) made 21 saves to earn his second career shutout and senior co-captain Brian Roloff (West Seneca, N.Y.) scored a pair of power-play goals to lead Vermont to a 3-0 win against St. Lawrence in front of a sellout crowd at Gutterson Fieldhouse on Saturday night. The Catamounts improved to 7-6-2 (4-5-2 HEA) with the win in the non-conference matchup while the Saints dropped to 8-7-2 (4-3-1 ECAC).
OTHER LINKS: Highlights | POSTGAME: Kevin Sneddon | Rob Madore | Brian Roloff
"I thought it was our first complete game of the season where we were very good in the net, we were very good in our own zone, we moved the puck well, we skated great," Vermont head coach Kevin Sneddon said. "I thought we used our speed very effectively; our transition game was very good. I thought we kept them back on their heels quite a bit and they're a great skating team as well, it was a great challenge for us."
Junior Josh Burrows (Prairie Grove, Ill.) gave the Catamounts a 1-0 lead when he scored with 58 seconds remaining in the opening period. Freshman David Pacan (Ottawa, Ont.) dug the puck out of the corner and fed Burrows at the right circle for his second goal of the season. Senior Colin Vock (Orlando, Fla.) also assisted.
"It was just a great change of lanes there down low," Burrows said. "Pacan found me on the weak side, and I just got it through."
Vermont out shot St. Lawrence 10-4 in the opening period and 20-11 through 40 minutes but carried just a one-goal advantage to the final period.
The Catamounts finally extended their lead on Roloff's first of two-power play goals with five minutes left in the third period. Junior Kyle Medvec (Burnsville, Minn.) kept the puck in at the point and moved up along the wall to the corner and found Roloff open in the low slot to make it 2-0.
With Vermont on a 4-on-3 power play with a minute remaining, St. Lawrence pulled senior goalie Kain Tisi (29 saves) to make it a 4-on-4. Roloff took a feed from senior co-captain Kevan Miller (Los Angeles, Calif.) in the neutral zone and backhanded the puck into an empty net with 14 seconds left to seal the win.
Vermont out shot St. Lawrence 32-21 and picked up its second straight shutout against its former ECAC rival. The Catamounts beat the Saints 4-0 in the championship game of the Catamount Cup last January behind 29 saves by Madore.
"It's been a while since we've played a full 60 minutes the way we're capable of and I really thought we dominated out there tonight," Madore said. "We showed what we're capable of and right now what we've got to worry about is getting that consistency and running with it."
Vermont improved to 10-3-1 in non-league play dating back to the start of last season. The Catamounts have won nine of the last 13 meetings with the Saints.
Vermont returns to action next Saturday against Dartmouth at Gutterson Fieldhouse at 4 p.m.
NOTES: Check back to www.UVMathletics.com for game highlights and postgame comments from Kevin Sneddon, Brian Roloff and Rob Madore ... The Catamounts went 2-for-2 on the penalty kill and are 31-for-31 on the kill in their seven wins this season ... Vermont has scored four power-play goals in the last two games ... Jonathan Higgins had a team leading five shots ... The Catamounts now have three shutouts on the season. They had just one shutout last season.