UMASS LOWELL BLANKS ST. LAWRENCE AT ICEBREAKER, 3-0
Kory Falite posts goal and two assists; Carter Hutton earns shutout with 24 saves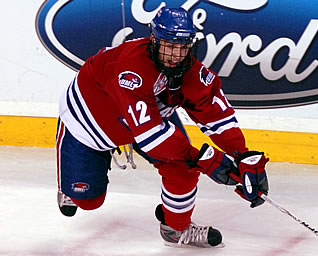 Kory Falite had a goal and two assists
OMAHA, Neb. - The 2009-10 UMass Lowell hockey campaign started with a bang as the River Hawks shutout the St. Lawrence Saints 3-0 on Friday afternoon. Senior Kory Falite (Billerica, MA) was electric as he scored a goal and two assists for a team-high three points.
OTHER LINKS: Blaise MacDonald Audio (mp3)
UMass Lowell now awaits the outcome of tonight's Army/Nebraska-Omaha matchup to determine who they will play in tomorrow night's Ice Breakers' Tournament Championship game. The contest is currently scheduled for 7 p.m. CT/8 p.m. ET.
The River Hawks earned an early lead despite a jittery first period. Maury Edwards (Rocky Rapids, Alta.) notched a power-play goal at 7:46 into the game to put UMass Lowell up 1-0. Following two one-timers by Falite, the puck landed in a scrum in which Edwards quickly emerged. He released a sharp back hander to the high shelf for the River Hawks' first goal of the season.
Edwards played a key role in the second UMass Lowell goal as well. He corralled the puck in the defensive zone and then fired a long pass up ice to Falite who skated into the offensive zone with a one-on-one matchup. Falite carried the puck deep, but audibled to a pass to captain Ben Holmstrom (Colorado Spring, CO) about 35 feet out. Holmstrom's shot cruised past goaltender Alex Petizian (Kirkland, Que.) to give the River Hawks a 2-0 lead.
UMass Lowell put the game on ice in the final minute despite St. Lawrence's efforts to score by pulling the goaltender. Falite got a hold of the puck and netted his first goal of the season and third point of the day.
Senior Carter Hutton (Thunder Bay, Ont.) looked in mid-season form as he stopped all 24 shots he faced, pitching the seventh shutout of his career. The veteran netminder looked poised as he followed the puck through a great deal of traffic and routinely made tough saves. St. Lawrence's Petizian saved 19 of 21 shots, slipping to 0-1-0 to start the season.
The River Hawks finished one-for-six on the power play, with Edwards netting the only score. UMass Lowell was perfect on the penalty kill, stonewalling all three Saints' attempts. St. Lawrence outshot the River Hawks 24-22 on the night.