Saturday, October 10, 2009
NEW HAMPSHIRE FALLS TO RENSSELAER, 3-1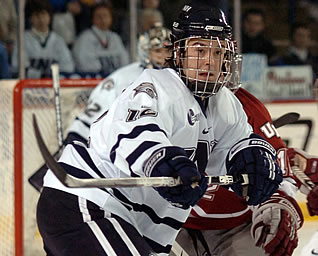 Bobby Butler scored a goal for the Wildcats
TROY, N.Y. - Despite a power play goal from Bobby Butler (Marlboro, Mass.), the No. 16 University of New Hampshire men's hockey team dropped its season opener at ECAC-foe Rensselaer, 3-1, on Saturday night at Houston Field House.
UNH, which had won eight-straight season openers coming into tonight's game, falls to 0-1-0 on the season. Rensselaer is now 1-1-0 overall.
Rensselaer struck first at 14:16 of the first period. Erik Burgdoerfer fed Chase Polacek, who was skating along the left boards. Polacek fired a shot that was stopped by UNH netminder Brian Foster (Pembroke, N.H.). Josh Rabbani was waiting at the right side of the net to collect the rebound and deposit the puck in the back of the net, giving RPI a 1-0 advantage at the first intermission.
The Wildcats tied it at 9:56 of the second stanza as Bobby Butler (Marlboro, Mass.) scored the first goal of the season for New Hampshire with a power play goal from the left slot. The tally was setup by good puck movement in the offensive zone from Mike Sislo (Superior, Wisc.) and Peter LeBlanc (Hamilton, Ontario), who were both credited with assists on the equalizer. New Hampshire held a 16-5 shot advantage in the second period.
Phil DeSimone (East Amherst, N.Y.) was whistled for a pair of penalties at 17:53. RPI wasted little time taking advantage as Polacek scored a power play goal at 3:24 with assists from Bryan Brutlag. The Engineers extended their lead to 3-1 as Mike Bergin scored at 7:53 with assists from Brutlag and Tyler Helfrich. Foster stopped 27 shots and falls to 0-1-0, while Engineer netminder Allen York stopped 37 shots and improves to 1-1-0 on the season.
New Hampshire returns to action when it opens the home slate of the 2009-10 season with top-ranked Miami (OH) University for a two-game series Oct. 16-17. Both games begin at 7 p.m. Tickets for all UNH home games are available at the Whittemore Center Box Office, online at www.unhwildcats.com or by calling Ticketmaster at 1-800-745-3000.