SPILLANE, CATAMOUNTS SHUT OUT FRIARS, 3-0
Mike Spillane earns shutout with 33 saves for Vermont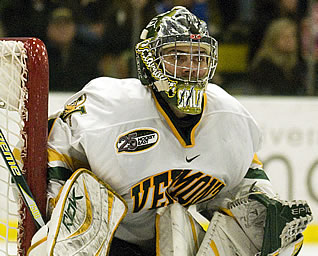 Mike Spillane made 33 saves for Vermont
BURLINGTON, Vt. - Senior Mike Spillane (Bow, N.H.) made 33 saves to earn his first career shutout and junior Justin Milo (Edina, Minn.) scored a pair of goals to lift No. 15 Vermont to a 3-0 victory against Providence in front of a sellout crowd at Gutterson Fieldhouse on Sunday evening.
The Catamounts improved to 3-3-1 (2-2-1 HEA) with the win while the Friars dropped to 5-3-0 (1-2-0 HEA). Vermont picked up three Hockey East points on the weekend after tying No. 8 UMass-Lowell 3-3 on Friday.
"I thought we gave it our all for 60 minutes," Vermont head coach Kevin Sneddon said. "I thought we were excellent for two periods, but a real intense effort for 60 minutes again. So, a very complete weekend for us; obviously against two good teams."
Freshman Chris McCarthy (Collegeville, Pa.) added a goal and junior Brett Leonard (South Burlington, Vt.) picked up the first assist of his career. Spillane made 13 of his 33 saves in the final period in his first start since a 4-3 win at Merrimack on Feb. 14 last season.
"I was just really excited to play," Spillane said. "I felt very calm out there and I really felt like I accomplished what I had worked on this summer. There's not a better feeling than to see results on something that you've worked very hard on."
Vermont took a 1-0 advantage at 7:34 of the second period when McCarthy scored from the right circle in transition. Sophomore Drew MacKenzie (New Canaan, Conn.) setup the goal with his fourth assist of the season.
Milo extended the lead to 2-0 with a quick wrist shot from the bottom of the left circle at 14:22. McCarthy and Leonard both assisted.
Trailing by two goals, The Friars started the third period on the power play but couldn't convert and finished 0-for-4 on the night.
Providence's best scoring opportunity came at 6:55 of the final period. Sophomore Matt Bergland had his shot from the right circle turned away by Spillane. The rebound came to freshman Aaron Jamnick whose shot attempt was blocked by Anders Franzon as he slid into the crease to preserve the two-goal lead.
Milo added his second goal of the game and his third of the weekend with 1:55 left to seal the 3-0 win. Seniors Colin Vock (Detroit, Mich.) and Brian Roloff (West Seneca, N.Y.) each assisted.
"He's got the hot stick," Sneddon said of Milo. "The thing we love about Justin is that he wants to shoot the puck. We're always telling our guys to shoot and players nowadays want to pass first and their second thought is to shoot. Justin knows what his job is, he knows what his role is, and that's to get pucks going to the net."
Providence out shot Vermont 33-23 and sophomore Alex Beaudry, the reigning Hockey East goalie of the Month, had 20 saves in the loss.
Vermont returns to action next weekend with a pair of games at No. 16 Boston College. The Catamounts and Eagles will meet on Saturday (Nov. 14) at 7 p.m. and Sunday (Nov. 15) at 4 p.m. Providence hosts Brown on Tuesday at 7 p.m.