Saturday, February 6, 2010
PROVIDENCE COLLEGE TIES VERMONT, 1-1
Senior John Cavanagh netted game-tying goal for Friars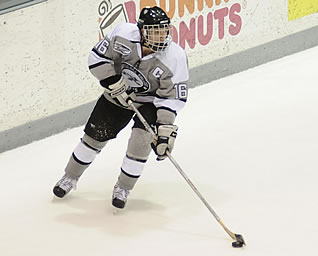 John Cavanagh netted the game-tying goal for PC
PROVIDENCE, R.I. -- The Providence College men's hockey team earned a 1-1 overtime tie against No. 17 Vermont Saturday night in a Hockey East game played at Schneider Arena. Senior John Cavanagh (Warwick, R.I.) scored at 16:18 of the first period and sophomore goaltender Alex Beaudry (Cumberland, Ontario) stopped 28 shots. With the tie, PC moved to 9-16-2 (4-14-2 HE) while Vermont sees its record go to 13-9-4 (7-8-4 HE). Vermont goaltender Rob Madore made 32 saves on the game.
Vermont took a 1-0 lead at 8:07 of the first period when David Pacan scored from the slot off a rebound. Chris McCarthy assisted on the goal. Providence evened the score at 16:18 as it converted on its second power-play chance of the night. John Cavanagh attempted to play a pass through the crease, but the puck bounced off a Vermont defenseman and into the net. Sophomore David Brown (Centennial, Colo.) and junior Kyle MacKinnon (Walnut, Calif.) assisted on the goal.
In the third period, Vermont appeared on the verge of taking the lead as it had a five-minute power play early on, but Providence thwarted the opportunity. The Friars then carried the play especially in the last five minutes as they peppered Madore with shots, but the sophomore netminder kept the score tied.
Providence earned a power play with 1:17 remaining in overtime but PC's lone shot from junior Eric Baier (North Kingstown, R.I.) was stopped. Neither team was able to beat the opposing goaltenders with Providence outshooting Vermont, 33-29, in the game.
The Friars are back in action on Friday, February 12 when they travel to No. 13 UNH, while the Catamounts host Merrimack.