VERMONT NOTCHES 5-1 WIN AT PROVIDENCE
Freshman Sebastian Stalberg has goal and two assists for Catamounts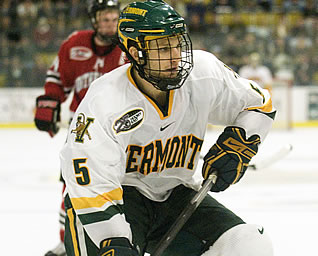 Brayden Irwin had a goal and an assist for Vermont
PROVIDENCE, R.I. -- No. 17 Vermont raced to a 3-0 first period lead and never looked back en route to a 5-1 victory over the Providence College men's hockey team Friday night at Schneider Arena.
The Catamounts (13-9-3, 7-8-3 Hockey East) struck first at 7:55 when Chris McCarthy netted his sixth goal of the season. Colin Vock increased UVM's lead to 2-0 at 15:55 scoring off assists from Justin Milo and Brayden Irwin. Vermont added a power-play goal with eight seconds left in the first period for a three-goal cushion as Irwin scored from the slot at 19:52.
In the second period, Sebastian Stalberg blocked a Friar shot then raced to the puck on a partial breakaway before firing a wrist shot into the top right corner of the net. The Friars (9-16-1, 4-14-1 Hockey East) cut the lead to 4-1 late in the period as junior Kyle MacKinnon scored his career-high ninth goal of the season. Junior Mark Fayne fired a slap shot from the point that was re-directed by MacKinnon in front at 19:50. Sophomore David Brown also assisted on the goal.
Kyle Medvec completed the scoring for Vermont with a goal at 6:17 of the third period. Rob Madore finished with 19 saves to earn the win, while Alex Beaudry and Justin Gates combined to make 29 saves.
The two teams will complete the weekend series on Saturday, February 6 at Schneider Arena.