Friday, December 11, 2009
NEW HAMPSHIRE OUTLASTS PROVIDENCE, 4-3
Phil DeSimone, Paul Thompson and Bobby Butler each post goal and assist for Wildcats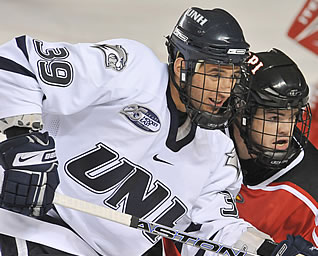 Phil DeSimone had a goal and an assist for the Wildcats
PROVIDENCE, R.I. - The Providence College men's hockey team was defeated by No. 19 New Hampshire, 4-3, Friday night in a Hockey East game played at Schneider Arena. With their fourth consecutive victory, the Wildcats improved to 8-6-3 overall and 8-2-2 in the league. The Friars are now 7-8-1 and 2-6-1 in Hockey East.
The Friars jumped out to a 1-0 lead at 6:30 of the first period when they scored on the power play. Sophomore Matt Bergland (Faribault, Minn.) slid a pass to the slot to junior Kyle MacKinnon (Walnut, Calif.) who ripped a one timer past UNH goalie Matt DiGirolamo. Senior Mark Fayne (Sagamore Beach, Mass.) also assisted on the goal.
However, the Wildcats scored three times in the second period to take a 3-1 lead. Paul Thompson scored at 6:13 off a feed from Phil DeSimone to tie the game, 1-1. DeSimone then gave the Wildcats a 2-1 lead as he converted a two-on-one short-handed rush at 8:21. With 51 seconds left in the period, Bobby Butler scored from a tough angle to increase UNH's lead to 3-1. It marked Butler's team leading 13th goal of the season.
In the third period, PC junior Jordan Kremyr (Cloverdale, B.C.) scored off a rebound from in close at 9:59 to cut the lead to 3-2. UNH responded three minutes later as Peter LeBlanc scored from the right circle to help his team regain its two-goal lead (4-2). MacKinnon then scored his second goal of the night, the sixth of the season, to trim UNH's lead to 4-3. The Friars pulled goalie Alex Beaudry (Cumberland, Ont.) for an extra skater in attempt to score the equalizer, but could not convert. DiGirolamo finished with 32 saves to earn the win, while Beaudry had 24 stops.
The Friars are back in action on Saturday, December 12 when they host No. 10 Boston College, while UNH will not play until January 3, 2010 when they host Cornell.