Saturday, February 27, 2010
UMASS LOWELL TIES UP PROVIDENCE COLLEGE, 2-2
Kory Falite ties game early in the third period for the River Hawks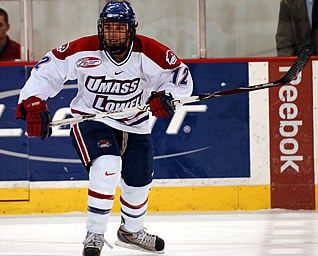 Kory Falite tied the game for UMass Lowell
PROVIDENCE, R.I. - The Providence College men's hockey team played to a 2-2 overtime tie against UMass Lowell Saturday night at Schneider Arena. The Friars (10-19-3, 5-17-3 Hockey East) had a 2-0 lead, but the River Hawks (17-14-3, 11-11-3, Hockey East) rallied to earn the draw.
OTHER LINKS: Blaise MacDonald and Kory Falite Postgame Audio
The Friars jumped to a 2-0 first period lead as they scored twice in a span of 29 seconds. While on the power play, junior Ian O'Connor (Londonderry, N.H.) gained possession of the puck behind the UML net and played it out front to sophomore Matt Bergland (Faribault, Minn.) who tucked the puck into the near post to give PC a 1-0 lead. Junior Eric Baier (North Kingstown, R.I.) also assisted on the goal. Just seconds later, sophomore Andy Balysky (Randolph, N.J.) added to the lead as he potted his second goal of the season. Freshman Tim Schaller (Merrimack, N.H.) fired a shot from the right circle that was saved by UML goalie Carter Hutton, but the rebound came right to Balysky who placed the puck into the empty net. Freshman Alex Velischek (Kinnelon, N.J.) also assisted on the goal.
The River Hawks pulled to within 2-1 at 4:57 of the second period as they scored on the power play. Hutton came out of his crease and played a long pass to Scott Campbell who was at the PC blue line. Campbell raced to the net before firing shot that hit PC goalie Alex Beaudry's pads, but the puck trickled into the net. UMass Lowell scored the equalizer at 1:02 of the third period as Kory Falite fired a shot from the far side of the right circle past Beaudry, who was screened in front.
UMass Lowell finished with a 33-26 shot advantage, but the Friars had a 7-3 edge in overtime. Beaudry finished with 31 saves for the Friars, while Hutton stopped 24 shots.
The Friars are back in action on Friday, March 5 when they host Merrimack on Senior Night, while UMass Lowell plays Vermont at home.