Saturday, January 30, 2010
MASSACHUSETTS SKATES TO 4-1 WIN OVER PROVIDENCE
Freshman defenseman Darren Rowe tallies two assists for Mintemen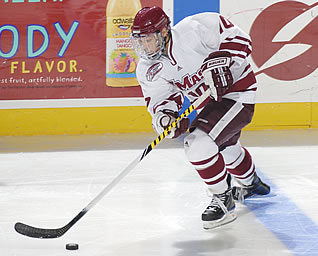 Will Ortiz had a goal for the Minutemen
PROVIDENCE, R.I. - The Providence College men's hockey team (9-15-1, 4-13-1) was defeated by No. 14 UMass (16-10-0, 11-8-0) by a score of 4-1 Saturday night in a Hockey East game played at Schneider Arena. Four different players scored for UMass while Ian O'Connor (Londonderry, N.H.) netted the lone goal for PC. Providence goaltender Alex Beaudry (Cumberland, Ontario) made 39 saves in the defeat.
After a scoreless first period, the Minutemen scored two power-play goals in the second period to take a 2-0 lead. Michael Marcou gave UMass at 1-0 lead at 3:11 when he fired a wrist shot from the right circle past Beaudry. Darren Rowe and T.J. Syner assisted on the goal. At the 8:00 mark, Will Ortiz netted his 12th goal of the season to add to UMass' advantage.
Providence came out for the third and immediately closed the UMass lead to one when O'Connor put home his seventh of the season just 16 seconds into the period. Freshman Tim Schaller (Merrimack, N.H.) skated into the UMass zone before firing a shot that was saved by Dan Meyers, but O'Connor was there to put in the rebound. Schaller earned his second assist of the season. Junior Kyle MacKinnon (Walnut, Calif.) also assisted on the play, earning his 10th of the year.
UMass' Rocco Carzo quickly responded with a goal at 1:22 and Eddie Olczyk would go on to add an insurance tally at 6:17 to give the Minutemen a 4-1 victory. Meyers made 26 saves in net, while Beaudry stopped 39 shots for the third time in the last four games.
The Friars are back in action on Friday, February 5 when they host Vermont at 7:00 p.m., while the Minutemen will host the Boston College at 7:30 p.m.