Saturday, December 12, 2009
UMASS LOWELL TOPPED BY PRINCETON, 3-2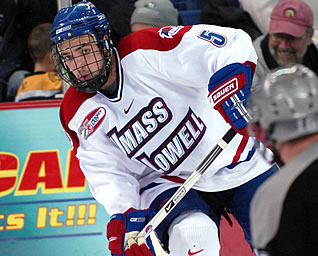 Nick Schaus had two assists for UMass Lowell
The River Hawk hockey club (10-6-1, 5-4-1 HE) dropped the second game of a weekend set with Princeton (4-8-1, 2-6-1 ECAC), 3-2 on Saturday night. Despite the loss, Kory Falite (Billerica, MA) potted his 50th career goal to become the first UMass Lowell skater to score 50 or more since Ed McGrane netted 70 from 1999-03.
OTHER LINKS: Blaise MacDonald Audio (mp3)
The Tigers stunned the River Hawks with two goals in the first period, scored only 10 seconds apart. On an early power play, Eric Meland (Grand Forks, ND) knocked in the rebound on Jody Pederson's (Smithers, B.C.) shot from the point. The score was Meland's first career goal and was followed with his second in a blink of the eye.
Following the face off, a miscommunication amongst UMass Lowell defenseman allowed Meland to snipe top shelf on Nevin Hamilton (Ashland, MA) from the goal line on the near side. Meland's second goal came just 10 seconds after his first and landed the River Hawks in a 0-2 hole after only 4:23 of game time.
The two teams skated through a scoreless second period before freshman Riley Wetmore (Swanton, VT) brought UMass Lowell back within one roughly three minutes into the third stanza. Chris Ickert (Abbotsford, B.C.) carried the puck along the boards and took a shot that allowed Wetmore to put back the rebound and cut the Princeton lead in half.
The River Hawk momentum took a hit about three minutes later when Kevin Lohry (Sioux City, IA) scored the Tiger's third goal of the game. Lohry, in front of a heavily trafficked net, found a path into the mesh to extend Princeton's lead to 3-1.
Falite cut the lead to one once again on a deflection near the mid point of the third period. Nick Schaus (Buffalo, NY) set up Jeremy Dehner (Madison, WI) at the point for a hard hit shot. Falite redirected the attempt through traffic and past Zane Kalemba (Saddle Brook, NJ) to chip away at the Tiger's lead. Despite the goal, the River Hawks' offense would stall in the waning minutes allowing Princeton to escape with the 3-2 win.
Hamilton stopped 27-of-30 Tiger shots, but fell to 5-2-1 on the season. His counterpart, Kalemba, made a career-high 45 saves to earn his second win of 2009-10.
With the weekend series behind it, UMass Lowell will take a break for the holiday season, resuming play on Jan. 2, 2010. The River Hawks will travel to Hanover, N.H. for the Dartmouth Tournament, facing Holy Cross in the opening round. Princeton heads to Florida for the Florida College Classic on Dec. 29, with a first-round matchup with Maine on the slate.