Friday, December 11, 2009
UMASS LOWELL NOTCHES 4-1 WIN AGAINST PRINCETON
Carter Hutton makes 29 saves for the River Hawks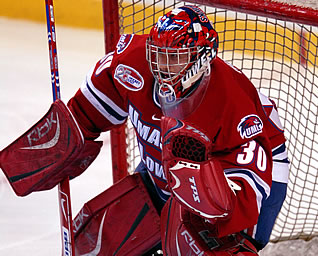 Carter Hutton made 29 saves for the River Hawks
LOWELL, Mass. - The ninth-ranked UMass Lowell hockey team (10-5-1, 5-4-1 HE) defeated the Princeton Tigers (3-8-1, 2-6-1 ECAC) by a score of 4-1 on Friday night in the Tsongas Arena. Freshman Riley Wetmore (Swanton, VT) netted the game-winning power play goal early in the third period in front of 3,808 fans.
The River Hawks got off on the wrong foot, with Princeton's Dan Bartlett (Portland, ME) scoring on a well-placed drag shot from a few feet out only 1:52 into the game. Taylor Fedun (Edmonton, Alb.) and Michael Sdao (Niwot, CO) set up Barlett for his sixth goal of the season.
Scott Campbell (Navan, Ont.) got UMass Lowell back on track midway through the second period with a power play goal from Wetmore and David Vallorani (Hamilton, Ont.). Vallorani slide the puck to Campbell who found Wetmore on the weak-side post. Wetmore's shot was saved, but Campbell buried the near-side rebound to knot the game at 1-1. The score was Campbell's sixth of the season.
With the game all square, the River Hawks exploded in the third period with three unassisted goals. It began with Wetmore's game-winner on the power play. The freshman forward picked Princeton's pocket while motoring up ice and put the shot under the arm of Mike Condon (Needham, MA) for the first game-winning goal of his career.
UMass Lowell's third score came as Michael Budd (Burlington, Ont.) stole the puck at the top of the River Hawk zone and converted the shot to extend the score to 3-1. Paul Worthington (Langhorne, PA) followed with the first short-handed goal of the season for UMass Lowell. With the goaltender pulled and the River Hawks already on the penalty kill, Worthington snuck by the defense and buried the empty net shot. Worthington's eighth goal of the season came with less than two minutes left and sealed the game as a 4-1 UMass Lowell win.
River Hawk goaltender Carter Hutton (Thunder Bay, Ont.) stopped 29-of-30 shots on net, improving to 5-4-0 on the season. The Tigers' Condon made 23 saves in the loss, falling to 0-1-0. UMass Lowell was 2-for-3 on the power play and blanked Princeton in six chances with the man advantage.
With the second game of a weekend set still remaining, the teams will meet again tomorrow afternoon for a 4 p.m. start.