Friday, November 27, 2009
VERMONT EDGES PAST NORTHEASTERN, 3-2
Sophomore Rob Madore makes 28 saves for Catamounts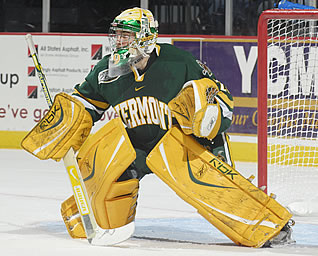 Rob Madore made 28 saves for the Catamounts
BOSTON, Mass. - Despite senior Kyle Kraemer extending his goal-scoring streak to four games, Northeastern was not able to overcome Vermont's early 2-0 lead in the first period as the Catamounts claimed a 3-2 victory at Matthews Arena.
Kraemer's pointstreak was pushed to a team-best and career-high six games as the St. Louis native has registered seven points over his stretch.
Freshman Justin Daniels notched his third-career goal and assembled his first collegiate pointstreak after his assist at Providence last weekend. Classmate Jake Newton has attained an assist in his last three outings, as well.
Northeastern has outshot its opponent twice in its last three contests, but Vermont's Rob Madore made 28 saves on 30 shots to anchor the Catamounts' defense. Huskies' rookie netminder Chris Rawlings turned away 23 shots on 26 UVM attempts.
Sophomore blueliner Drew Muench turned in his first-career two-assist game. The last time Muench secured a pair of points was a two-goal effort against Vermont on Jan. 19, 2008.
"I thought Vermont was able to capitalize on two of their changes," head coach Greg Cronin said. "I thought we had some great chances when we were down 2-0, but their goalie (Rob Madore) played really well tonight."
The Catamounts jumped out to an early 2-0 lead in the initial period. The Huskies answered twice to cut it to one on two occasions, but David Pacan's lamplighter at 10:10 of the second proved to be the game winner.
Brayden Irwin capitalized at 3:28 of the first after Rawlings' clearing attempt went astray. Rawlings tried to launch the puck down the far boards, but Irwin intercepted the pass, skated in and wristed one top-shelf for the early 1-0 lead.
Jack Downing doubled up at 12:08 after Rawlings lost his stick in the crease. Sebastian Stalberg tossed the puck on net initially to force NU's netminder to part ways with his stick. Downing took advantage of the vulnerable situation for the 2-0 edge.
Kraemer's tally at 6:29 of the second made it a one-goal game. Muench generated the play from the far boards along the blueline as he sailed a pass to Newton in the near slot. Kraemer found a seam, crashed the net and netted Newton's perfect pass to cut UVM's lead in half, 2-1.
Almost four minutes later, Pacan grabbed another Northeastern turnover in its own zone and zipped it by Rawlings at 10:10 for the game winner.
Daniels and junior Wade MacLeod crafted a beautiful give-and-go marker at 9:38 to give the Huskies hope, but Vermont was able to play sound defense to snuff out Northeastern's comeback bid.
Daniels' goal came on a redirection from MacLeod's pass as the newcomer tipped it out of mid-air up and over Madore's glove to set the final count, 3-2.
The Huskies had their four-game powerplay-scoring streak snapped on Friday night at Matthews Arena. Northeastern has scored with the extra-man advantage in 10 of its 12 tilts.
Northeastern resumes Hockey East action with a home-and-home series against Merrimack. The Huskies and Warriors collide at the Volpe Center on Friday, Dec. 4 at 7 p.m. and run it back at Matthews Arena on Saturday, Dec. 5 at 7 p.m. Vermont steps out of league action and hosts Yale on Monday, Nov. 30 at 7:05 p.m.