Saturday, January 16, 2010
IRWIN LEADS CATAMOUNTS PAST HUSKIES, 9-2
Brayden Irwin nats hat trick and adds assist for Vermont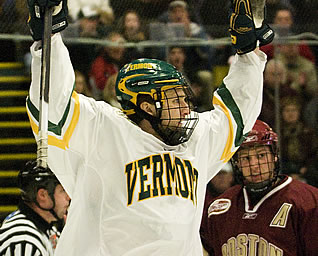 Brayden Irwin had three goals and an assist for Vermont
BURLINGTON, Vt. - Senior Brayden Irwin (Toronto, Ont.) notched a hat trick and junior Justin Milo (Edina, Minn.) scored twice as No. 18 Vermont rolled to a 9-2 victory against Northeastern at Gutterson Fieldhouse in Hockey East action on Saturday night. Seniors Brian Roloff (West Seneca, N.Y.) and Colin Vock (Orlando, Fla.) as well as junior Kyle Medvec (Burnsville, Minn.) each added three points for the Catamounts, who improved to 11-7-2 (5-6-2 HEA) with the victory.
Freshmen Sebastian Stalberg (Gothenburg, Sweden) and Tobias Nilsson-Roos (Malmo, Sweden) as well as junior Jack Downing (New Canaan, Conn.) also scored goals. The nine goals were the most for the Catamounts since a 10-2 win against Holy Cross on Dec. 2, 2000.
"We had some momentum going, the energy in the building was fantastic, our fans were pretty loud," Vermont head coach Kevin Sneddon said. "I think we fed off that and I think we just wore them down a little bit. I think we were really good structurally tonight, we were very disciplined in our positioning as opposed to last night when we were chasing the pucks around a lot."
Irwin scored on the power play 1:35 into the game and the Catamounts never looked back.
Vermont extended the lead to 2-0 at 7:19 on Stalberg's second goal of the season. Stalberg tracked down a lose puck in the slot and beat NU goalie Chris Rawlings (12 saves) top shelve with a wrist shot.
The Catamounts exploded for five goals in the second period beginning with a goal by Downing 48 seconds in. Downing tipped in a shot by junior Dan Lawson (Oak Forest, Ill.) from the point for his seventh goal of the year.
Junior Steve Silva scored at 10:56 to cut the deficit to 3-1 for the Huskies (9-11-1, 5-10-1 HEA).
But Vermont responded with four straight goals to finish the period. Milo scored his first of two goals on a feed from Colin Vock (Orlando, Fla.) at 14:08.
Less than two minutes later Roloff scored on a backhander that hit the inside of the left post and caromed in to make it 5-1. Bryan Mountain (3 saves) replaced Rawlings in goal following the score.
Mountain's time in net was short lived. Nilsson-Roos scored at 18:05 and Milo scored again on a feed from Vock at 19:03 to open up a 7-1 advantage. Rawlings reentered the game for NU to start the third period.
Irwin added two goals in the final period to increase his team leading total to 10. He also has a team-high 21 points in 20 games this season.
"It just feels great," Irwin said. "I mean those kind of games don't come around too often, but I think it's a result of a great team effort. Right from the start we had everyone firing at all cylinders and it was a real collective effort tonight."
Sophomore Rob Madore (Pittsburgh, Pa.) finished with 24 saves. Sophomore John Vazzano (Trumbull, Conn.) played the final 7:54 in goal and made one stop. The Catamounts went 5-for-5 on the penalty kill and are 40 for their last 42 on the kill.
A total of 14 different players recorded points for the Cats and seven different players had at least two points.
The victory was a big response for Vermont after dropping a 3-1 decision to the Huskies on Friday.
"Obviously we wanted to let it go," Medvec said. "Last night we had a couple of unlucky bounces, and tonight we definitely just wanted to focus on getting back in the swing of things, keep moving, get the puck up quicker and really get behind their defensemen. Getting shots on goal was a big emphasis and they went into the net tonight."
Vermont returns to action next Saturday (Jan. 23) and Sunday (Jan. 24) for a two-game series at Massachusetts. Saturday's game begins at 7 p.m. Sunday's game is a 3 p.m. start and will be televised on ESPNU.
NOTES: Check back to www.UVMathletics.com for game highlights and postgame comments from Kevin Sneddon and Brayden Irwin ... Kyle Medvec had a plus-5 rating ... Medvec's three assists were a career high ... Justin Milo has 18 points in 14 games ... Milo and Colin Vock have an eight-game point streak ... The duo has combined for 26 points in those eight games ... The Catamounts are 10-4-4 against the Huskies since joining Hockey East.