NORTHEASTERN UPENDS VERMONT, 3-1
Kyle Kraemer posts goal and assist for Huskies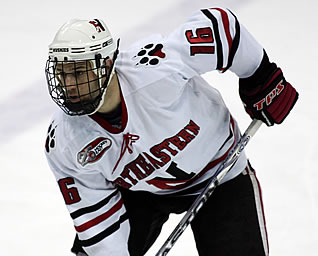 Kyle Kraemer had a goal and an assist for the Huskies
BURLINGTON, Vt. - Northeastern blocked 19 shots and scored three unanswered goals to overcome an earlier deficit en route to a 3-1 victory over No. 18 Vermont at a sold out Gutterson Fieldhouse in Hockey East action on Friday night. The Catamounts dropped to 10-7-2 (4-6-2 HEA) with the loss while the Huskies improved to 9-10-1 (5-9-1 HEA) with the win.
"We looked a little rusty in terms of our game management, game execution if you will," Vermont head coach Kevin Sneddon said. "We had guys that you'd want to have the puck on their stick and they would whiff it or pass into somebody's skates when they were wide open. I think it all does stem back to missing our opportunities especially in the first half of the game; trying to build a lead and playing with the lead, instead we're chasing them all game."
Vermont seemed to pick up right where it left off after a two-week layoff following their Catamount Cup championship. Senior Colin Vock (Orlando, Fla.) scored just 24 seconds into the game to extend his point streak to seven games. Junior Justin Milo (Edina, Minn.) and senior Patrick Cullity (Tewksbury, Mass.) each assisted on Vock's fifth goal of the season.
Vermont controlled play throughout the opening period, out shooting the Huskies 8-2. Seniors Brian Roloff (West Seneca, N.Y.) and Brayden Irwin (Toronto, Ont.) also hit posts but the Catamounts took just a 1-0 lead to the locker room.
Momentum shifted to Northeastern 54 seconds into the second period when freshman Justin Daniels scored on a centering feed from junior Tyler McNeely.
NU freshman Chris Rawlings finished with 18 saves and his best stop came with just over 15 minutes to go in the second. Junior Jack Downing (New Canaan, Conn.) setup Wahsontiio Stacey (Kahnawake, Que.) at the right circle for a one-timer with an open net in front of him. The 6-foot-5 Rawlings went post to post to make the stop.
Senior Kyle Kraemer gave Northeastern the lead when he tucked a rebound past sophomore Rob Madore (Pittsburgh, Pa.) (13 saves) at 10:50. McNeely picked up his second assist of the game on the play that made it 2-1.
Vermont managed just five third period shots and NU blocked eight shots in the final period to preserve the victory. Junior Wade MacLeod scored an empty netter with 16 seconds left to seal the win.
Vermont completes its regular season series against Northeastern tomorrow at 7:05 p.m. at Gutterson Fieldhouse. Tickets are still available online at www.UVMathletics.com.
"We feel we let two points slip away tonight," Sneddon said. "Tomorrow's a new day and we can't dwell on this one too long, we've got to learn our lesson from tonight and make some adjustments for tomorrow."
"The nice thing about the second half is you get to play the same team the next night so we're anxious to get to play Northeastern again. I thought they played a great game tonight, they deserve a lot of credit, especially in their second half how they played; we've got to be better for a full sixty tomorrow there's no question."
NOTES: Check back to www.UVMathletics.com for game highlights and postgame comments from Kevin Sneddon and Colin Vock ... The Catamounts dropped to 7-3-1 at home this season with the loss ... Vermont went 0-for-3 on the power play and didn't take a penalty for the first time this season ... Justin Milo extended his scoring streak to seven games .. NU won 29 of 52 face offs ... The Catamounts dropped to 9-4-4 against the Huskies since joining Hockey East.