POWER PLAY HELPS UMASS NOTCH 4-1 WIN AT NORTHEASTERN
Senior Forward Will Ortiz posts goal and two assists for Minutemen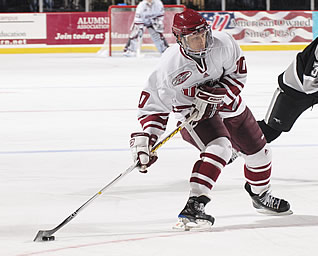 Will Ortiz had a goal and two assists for UMass
BOSTON, Mass. - Junior Tyler McNeely scored his fourth point in two games by potting his sixth goal of the year on Sunday night in a 4-1 loss against Massachusetts at Matthews Arena. Classmate Wade MacLeod offered up the assist to extend his point streak to four games, matching a career-best.
Rookie goaltender Bryan Mountain earned his third-career start in net and steered away 20 shots on 24 attempts. Minutemen netminder Paul Dainton stopped 12 shots on 13 attempts.
Northeastern's 13 attempts marked a season low while the Minutemen marched towards the net for three powerplay tallies on the evening.
Sophomore Alex Tuckerman was cited for hooking cited for hooking at 5:53 of the first, spawning one of three UMass powerplay goals. James Marcou tossed the puck back to Casey Wellman for a point-blank look in front of Mountain for the quick 1-0 lead at 6:04.
Rocco Carzo doubled up at 18:02 of the first by crashing the left side of the net and roofing a Matt Irwin offering past Mountain top-shelf. Carzo's marker was UMass' lone even-strength goal of the contest.
In the later portion of the second, junior Steve Silva took a 10-minute game misconduct for mashing Marcou into the boards at 16:15. Marcou replied with a nifty deke in front of Mountain and lifted the backhand in at 18:58 for the 3-0 advantage. Will Ortiz connected with Marcou down the right side to generate the powerplay goal.
Ortiz called his own number just 18 seconds later by dumping Justin Braun's rebound in for the 4-0 lead at 19:16. Ortiz's goal was one of three points for the forward on the night.
McNeely's goal at 2:10 of the third period gave the Huskies hope, but Massachusetts' defense was too thick for Northeastern to maneuver through. Freshman Justin Daniels was credited with the first assist, marking his sixth point of the year.
Northeastern makes its way to Burlington, Vt. for a set with the Catamounts starting on Friday, Jan. 15 at 7 p.m. Saturday's game at Gutterson Fieldhouse is scheduled for the same time.