MASSACHUSETTS DEFEATS NIAGARA, 4-1
Michael Lecomte scores two goals for Minutemen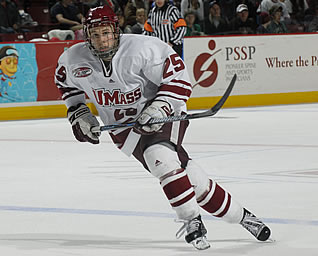 Michael Lecomte scored twice for the Minutemen
AMHERST, Mass. - The UMass hockey team received two goals from Michael Lecomte en route to a 4-1 win over Niagara on Friday night at the Mullins Center. Danny Hobbs and David Boehm also scored for the Minutemen (5-1-0), while Paul Dainton made 31 saves in goal. Andrew Hare made 29 saves for the Purple Eagles (0-6-1). The two teams will square off again Sunday afternoon in Niagara. Gametime is scheduled for 2 PM.
Massachusetts outshot Niagara 33-32 for the game, while the Minutemen were 1-for-3 on the power play. Niagara was 0-for-4 on the man advantage. UMass also improves to 2-0-0 against non-conference foes so far this season.
Both teams played an even first period, with the Minutemen outshooting Niagara 12-9. While the teams traded chances throughout the period, Massachusetts had more significant scoring chances as the stanza wore on. UMass was awarded a power play with 1:58 remaining in the frame, and threw several shots on Hare, but he was up to the task to keep the game scoreless.
Niagara came out hard early in the second period, netting the first goal of the game just 22 seconds into the stanza. UMass answered, though, with two goals of its own to take a 2-1 lead into intermission. Ryan Olidis notched his third goal of the season after he quickly picked up a rebound from an Egor Mironov shot and buried it past Dainton for the 1-0 lead.
The Minutemen evened the score 12 minutes into the frame off a shot from Lecomte. When Shawn Saunders sent a pass to Will Ortiz behind the net, Ortiz skated out to the right faceoff and fired a hard pass to Lecomte in the slot. Lecomte then let a one-timer go to complete the tic-tac-toe goal. Lecomte's goal was his first of the year after missing the previous four games due to injury.
Massachusetts took its first lead of the game in the final minute of the period, while on the power play. With 13 seconds remaining, Ortiz sent a pass to Martin Nolet at the point. Nolet took a wrist shot that was deflected by Hobbs at the top of the crease and past Hare for his first of the season.
Niagara tried to get itself back into the game in the third period, outshooting the Minutemen 14-13. They were awarded two power plays during the final frame, and threw two shots on goal during their man advantages. UMass added two empty net goals in the last two minutes, one from Lecomte with 1:28 remaining and the other from Boehm with 11 seconds left. The goal was Boehm's first of his career.