VERMONT FALLS TO NEW BRUNSWICK IN OVERTIME, 3-2
Jack Downing and Josh Burrows score Catamount goals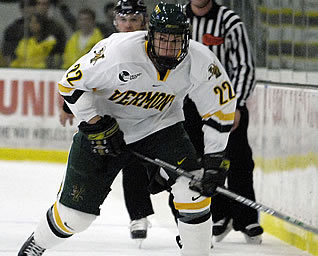 Josh Burrows scored a power-play goal for Vermont
BURLINGTON, Vt. - Hunter Tremblay scored with 30 seconds remaining in overtime to give New Brunswick a 3-2 victory over No. 15 Vermont in men's hockey action at Gutterson Fieldhouse on Sunday evening. The Varsity Reds, the defending Canadian Interuniversity Sport champions, improved to 7-1-0 during the preseason with the victory.
Tremblay redirected a slap shot from the point by Kyle Bailey to give UNB its second straight win over a Hockey East opponent. New Brunswick defeated Massachusetts 3-2 on Saturday.
Junior Josh Burrows (Prairie Grove, Ill.) scored a power-play goal and junior Jack Downing (New Canaan, Conn.) also scored for the Catamounts. Sophomore goalie Rob Madore (Pittsburgh, Pa.) made 19 saves.
Kyle Bailey and Chris Culligan both had power-play goals for UNB in the first five minutes of the game. Derek Yeomans stopped 23 of 25 shots.
"We made a lot of mistakes but at the same time I really liked how aggressive our team played," Vermont head coach Kevin Sneddon said. "Their a great team but when we fell behind 2-0 in the first four minutes that's not the way you want to start against a real strong team like UNB."
"I give our guys a lot of credit, I think they showed a lot of character coming back and tying that game up against a very good defensive team. Obviously it's not the way you want to lose in your own building with 30 seconds to go, but there's a lot more positives that we can take from this game than negatives; and really that's the message to the guys."
Bailey made it 1-0 UNB when he scored on a deflection at 2:45 of the first on the power play.
Less than two minutes later with the Varsity Reds again on the power play, Culligan scored on a one timer to give UNB an early two-goal advantage.
The Catamounts cut the deficit in half when Downing beat Yeomans high on the blocker side from the left circle at 9:40 of the second period. Sophomore Lance Herrington (Bow, N.H.) assisted.
Burrows tied the game 2-2 when he took a backdoor pass at the left post from senior co-captain Brian Roloff (West Seneca, N.Y.) and stuffed the puck past Yeomans. Senior Colin Vock (Detroit, Mich.) also assisted.
Vermont out shot New Brunswick 25-22. UVM went 1 for 6 on the power play while UNB was 2 for 5.
Vermont begins the regular season at No. 2 Denver with a two-game series next weekend. The Catamounts and Pioneers meet on Friday, Oct. 9 at 9:30 p.m. (EST) and Saturday, Oct. 10 at 9 p.m. Friday's game will be televised on Fox Sports Rocky Mountain.
"Three practices away and we really have to make use of our time," Sneddon said. "We're not anywhere ready yet, and I think the guys know that. We knew that going into this game that we needed to use this to make sure we went all out and made aggressive mistakes so that we can use video and the lessons we learn from this game and apply it to practice to get ready for Denver."
NOTES: Check back to www.UVMathletics.com for game highlights and postgame interviews with Kevin Sneddon and Jack Downing ... Five Vermont freshmen made their debuts: Ben Albertson, Anders Franzon, Tobias Nilsson Roos, David Pacan and Sebastian Stalberg ... Brayden Irwin went 9 for 11 on face offs ... Dan Lawson and Colin Vock had a team-high four shots apiece.