Saturday, January 30, 2010
MAINE NOTCHES 4-4 TIE AT VERMONT
Tanner House nets game-tying goal for Black Bears; Wahsontiio Stacey posts four points for Catamounts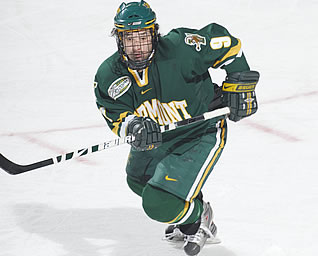 Wahsontiio Stacey had four points for Vermont
BURLINGTON, Vt. - Junior Wahsontiio Stacey (Kahnawake, Que.) recorded two goals and two assists to lead No. 17 Vermont to a 4-4 tie against No. 19 Maine at a sold out Gutterson Fieldhouse in Hockey East action on Saturday night. Senior co-captain Brian Roloff (West Seneca, N.Y.) added a goal and two assists as the Catamounts moved to 12-9-3 (6-8-3 HEA) on the season.
The Catamounts took a 4-2 lead just 23 seconds into the third period when Roloff scored his seventh goal of the year on a deflected shot from the point.
But freshman Klas Leidermark scored at even strength midway through the final period and junior captain Tanner House tied the game on the power play with just 4:14 left to give the Black Bears a three-point weekend.
"Tonight we worked very hard and executed for the most part very well," Vermont head coach Kevin Sneddon said. "Our special teams did not and that was the difference on the weekend."
Maine (12-9-3, 9-6-2 HEA), who ranks first in the country on the power play at 30-pecent, scored three power-play goals on the night. The Black Bears had seven power-play goals in the two games on the weekend.
Vermont out shot Maine 13-5 in the opening period but trailed 1-0. Senior David de Kastrozza scored on the power play at 11:20 for the Black Bears.
Sophomore Drew MacKenzie (New Cannan, Conn.) tied the game at 5:21 of the second. MacKenzie tracked down a rebound as he was streaking down the seam to pot his second goal of the season. Roloff and Stacey assisted.
Midway through the second, Maine went on a 5-on-3 power play for 1:43. The Catamounts killed off the 5-on-3 and just as the 5-on-4 was expiring sophomore Will O'Neil scored from the left circle to make it 2-1 Black Bears.
Stacey answered with his first of two goals at 14:20. Working from below the goal line, junior Jack Downing (New Canaan, Conn.) fed Stacey in the low slot and he beat Scott Darling (29 saves) to the right post to tie the game 2-2.
Vermont moved in front 3-2 at 17:17 on Stacey's ninth goal of the season. This time Stacey made a nifty tip in on a shot by senior Patrick Cullity (Tewksbury, Mass.) from the point. Stacey has four goals in the last three games and despite the tie was pleased with the improvement from Friday's 6-3 loss against The Black Bears.
"Well it was a completely different game than last night," Stacey said. "We competed a lot harder, we battled, aside from a couple plays we didn't execute on. The effort was there at least and the difference was for 60 minutes we came to play unlike yesterday."
Roloff scored in the opening seconds of the third period to open up a two-goal advantage before Maine battled back for the tie.
Vermont held a 33-21 advantage in shots. Sophomore Rob Madore (Pittsburgh, Pa.) finished with 21 saves. The Catamounts were 0-for-5 on the power play.
"Our power play was extremely ineffective," Sneddon said. "We played on the perimeter, we didn't challenge their box, we didn't shoot from off angles, so that was disappointing."
The Catamounts moved to 6-1-2 following a loss on the year but went 0-2-1 against the Black Bears in the regular season. Vermont ended the weekend in a tie for seventh place in Hockey East with 15 points while Maine is in sole possession of fourth place with 20 points.
Vermont returns to action next weekend in a two-game set at Providence on Friday (Feb. 5) and Saturday (Feb. 6) at Schneider Arena.
"We've got to come to work on Monday," Stacey said. "It's coming down to, I think we have 10 or 11 games left in the season. So it's the stretch run now, this is where we've got to show our character and really come to play every night for 60 minutes."
NOTES: Check back to www.UVMathletics.com for game highlights and postgame comments from Kevin Sneddon, Wahsontiio Stacey and Jack Downing ... Stacey's four points were a career high ... He finished with a plus-4 rating ... Jack Downing was also a plus-4 ... Brayden Irwin went 13-for-17 on face offs ... Maine went 10-for-23 on the power play in three games against Vermont this season ... The Catamounts are 0-0-3 in overtime contests on the year ... UVM is 6-5-2 against ranked teams.