MAINE FORCES GAME THREE WITH 2-0 WIN OVER UMASS LOWELL
Dave Wilson picks up shutout with 22 saves for Black Bears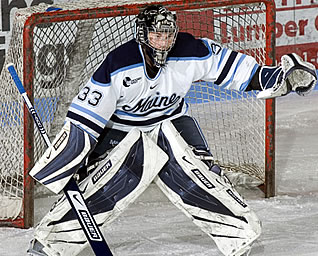 Dave Wilson earned a shutout with 23 saves for Maine
ORONO, Maine -- Senior goalie Dave Wilson (Caledon East, Ontario) made 23 saves en route to his second career shutout, while Spencer Abbott (Hamilton, Ontario) and Tanner House (Cochrane, Alberta) each tallied goals as the University of Maine men's ice hockey team forced a winner-take-all third game in their Hockey East quarterfinal series. The Black Bears improve to 17-16-3 on the season, while Lowell falls to 19-15-4.
OTHER LINKS: Blaise MacDonald Audio
Maine would waste no time getting on the scoreboard as Spencer Abbott (Hamilton, Ontario) put the Black Bears up 1-0 just 23 seconds into the game. Josh Van Dyk (Woodstock, Ontario) had a shot from the blueline. David deKastrozza (Toms River, N.J.) was able to get the puck to Abbott, who beat UMass Lowell goalie Carter Hutton. For Abbott, it was his eighth goal of the season.
The Black Bears would extend their lead on a power play goal by Tanner House (Cochrane, Alberta) with 7:15 remaining in the second period. Dee would find Gustav Nyquist (Malmo, Sweden) who carried the puck on the right boards and into the Lowell zone. Nyquist would then flick a pass in front of the net, finding House who slapped a quick shot through Hutton's legs and into the back of the net. For House, it was his 15th goal of the season.
Wilson was outstanding, stopping all 23 shots that he faced. He improves to 1-4-0 on the season. The shutout was the first of the season for the Black Bears. Hutton made 28 saves in goal for the River Hawks. He falls to 13-11-2.
Maine finished the game with a 30-23 edge in shots on goal. The Black Bears were 1-for-8 on the power play, while UMass Lowell was scoreless in eight chances.
Maine returns to action when it hosts UMass Lowell for game three of the quarterfinal on Sunday, March 14. Puck drop is scheduled for 7 PM at Alfond Arena. The ticket off will open at 5 pm to allow fans to purchase their tickets. Doors will open at 6:00 pm, with the winner advancing to the Hockey East semifinals on Friday, March 19.