HOLMSTROM GOAL LIFTS UMASS LOWELL PAST MAINE, 2-1
Senior forward Ben Holmstrom nets game-winning goal for River Hawks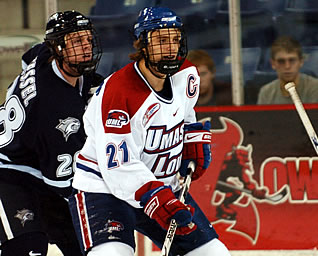 Ben Holmstrom picked up the game-winner for UML
ORONO, Maine - The University of Maine men's ice hockey team fell to UMass Lowell 2-1 on Friday night in the first game of the 2010 Hockey East quarterfinals. Maine falls to 16-16-3 on the season with the loss, while UMass Lowell improves to 19-14-4. The Black Bears got their lone goal from rookie defenseman Mark Nemec (Rouses Point, N.Y.).
OTHER LINKS: Blaise MacDonald and Ben Holmstrom Audio
The Black Bears jumped out to an early lead when Mark Nemec beat Lowell goaltender Carter Hutton for his first career goal. The play would start when sophomore Spencer Abbott (Hamilton, Ontario) slid a pass out of the Maine zone to Joey Diamond, (Long Beach, N.Y.) while Maine skated shorthanded. Diamond would carry the puck in just as Nemec's penalty was ending. Nemec then came straight out of the box and skated into the Lowell zone with Diamond. Diamond flicked a pass across ice to fellow freshman Nemec who skated in all alone and fired a wrist shot into the River Hawk net.
With the time ticking down in the first period, the River Hawks would take advantage of a power play and knot the score, 1-1. Riley Wetmore would get the play started for Lowell when he fed a pass to Scott Campbell. Campbell would then fire a shot that slid in behind the Maine net. Jeremy Dehner would then collect the puck and throw a shot in front that would ricochet off a stick and past Black Bear goaltender Dave Wilson (Caledon East, Ontario).
After an uneventful second period, the River Hawks would take a 2-1 advantage with 13:05 remaining in the third period. The goal came when Ryan Blair fired a shot on net that was saved by Wilson straight up into the air. Ben Holmstrom would bat the puck out of the air and into the Maine net. After review, the goal would stand. Kory Falite also assisted on the goal for Lowell.
The Black Bears would continue their attack, pulling Wilson with 50 seconds remaining in the third period, but come up short in game one of the series, 2-1.
The River Hawks out shot Maine 21-18 in the contest while capitalizing on one of their power play opportunities, going 1-5 with the man advantage. The Black Bears went 0-5 with an extra skater.
Wilson was solid in net for Maine, making 19 saves but taking the loss and falling to 0-4-0 on the season. Hutton picks up his 13th win of the season as he made 18 stops in net for the River Hawks.
Maine returns to action when it hosts UMass Lowell in game two of the quarterfinal series, Saturday, March 13. Puck drop is scheduled for 7 PM at Alfond Arena. Tickets may be purchased at the door starting at 6:00 PM.