Saturday, January 23, 2010
MAINE PICKS UP 4-0 EXHIBITION WIN AGAINST US UNDER-18 TEAM
Gustav Nyquist has goal and two assists for Black Bears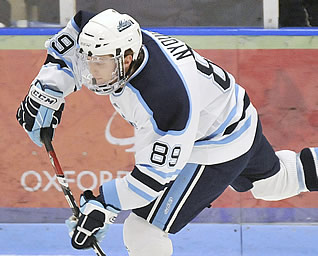 Gustav Nyquist had a three-point game for Maine
ORONO, Maine - Shawn Sirman (Blezard Valley, Ontario) had 33 saves, while Gustav Nyquist (Malmo, Sweden) and Will O'Neill (Salem, Mass.) each tallied a goal and two assists to lead the University of Maine men's ice hockey team to a 4-0 shutout of the USA Under-18 Team on Saturday night at Alfond Arena in Orono, Maine.
Brett Carriere (Ottawa, Ontario) gave Maine a 1-0 lead at 10:31 of the first period. Carriere scored on the rebound of a Theo Andersson (Gothenburg, Sweden) blocked shot from the right of USA Under-18 goalie Jack Campbell. Will O'Neill also assisted on the goal for the Black Bears.
Nick Pryor (Woodbury, Minn.), who had previously played for the USA Under-18 Team, gave the Black Bears a 2-0 lead 3:51 into the second period when Nyquist found him alone in the slot. Pryor fired the puck past Campbell, after receiving a perfect pass. Mike Banwell (Scarborough, Ontario) also assisted on the goal for Maine.
With just over a minute left in the second period, O'Neill passed the puck from the top of the left circle and found a wide open Nyquist at the far-post. Nyquist deposited the puck into the back of the net to give the Black Bears a 3-0 lead. Klas Leidermark (Gavle, Sweden) had an assist on the goal as well.
O'Neill put Maine up 4-0 with 2:42 left in the game when he skated across the top of the left circle and beat the goalie to the far side with a low shot. Nyquist also assisted on the goal for the Black Bears.
The USA Under-18 Team finished with a 33-27 edge in shots. Maine was 1-for-5 on the power play, while the USA Under-18 Team did not have a power play opportunity.
Rookie Shawn Sirman was outstanding in goal, stopping all 33 shots that he faced. He made 15 saves in the first period and 13 in the third. Campbell made 23 saves for the USA Under-18 Team.
The Black Bears return to action on Friday, January 29 when they travel to Burlington, Vt. for a Hockey East series with the Catamounts. Puck drop is scheduled for 7 PM.