Saturday, January 16, 2010
PROVIDENCE HOLDS OFF MAINE, 3-2
Matt Bergland and Kyle MacKinnon each post goal and assists for Friars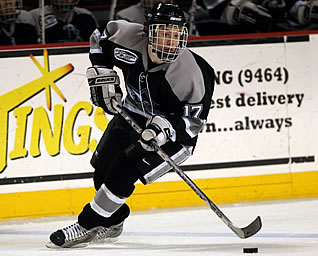 Matt Bergland had a goal and an assist for PC
PROVIDENCE, R.I. - The Providence College men's hockey team jumped out to a 3-0 second period lead and held on to defeat No. 16 Maine, 3-2, on Saturday, January 16 at Schneider Arena. The win marked the second consecutive for the Friars who improved to 9-10-1 overall and 4-8-1 in Hockey East. Maine fell to 11-9-2 and 8-6-1 in league action.
After a scoreless first period, the Friars scored three times in the second period for the second consecutive game. Sophomore Matt Bergland gave PC a 1-0 lead at 10:30 when he took a feed from Ian O'Connor and fired a one-timer past Shawn Sirman. It marked Bergland's team high ninth goal of the season. The Friars then scored two goals in the last minute of the second period for a three-goal lead. Freshman Aaron Jamnick netted his fifth goal of the season at 19:04 as junior Paul Golden and senior Greg Collins assisted on the goal. With eight seconds left, junior Kyle MacKinnon scored on the power play from in close off a pass from Bergland. It marked MacKinnon's career-high eighth goal of the season.
PC sophomore goalie Alex Beaudry kept the Black Bears scoreless for 59:04, but Maine's Abbott Spencer broke Beaudry's shutout bid when he scored on a screen shot from the slot at 19:04. With an extra skater on, Maine cut PC's lead to 3-2 just 24 seconds later when Brian Flynn scored his sixth goal of the season. However, the Friars were able to secure the win. Beaudry finished with 37 saves, while Sirman and Dave Wilson combined to make 23 stops.
The Friars are back in action on Tuesday, January 19 when they travel to Northeastern while the Black Bears will play an exhibition game against New Brunswick at Alfond Arena.