Saturday, December 5, 2009
MAINE SWEEPS WEEKEND SERIES WITH 3-1 WIN OVER PROVIDENCE
Black Bears get game-winner from Spencer Abbott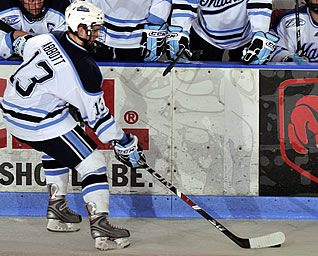 Spencer Abbott scored the game-winning goal for Maine
ORONO, Maine -- The University of Maine men's ice hockey team extended its winning streak to four games with a 3-1 victory over Providence College on Saturday night at Alfond Arena in Orono, Maine. The Black Bears got goals from Joey Diamond (Long Beach, N.Y.), Spencer Abbott (Hamilton, Ontario) and Gustav Nyquist (Malmo, Sweden) in the victory, while Eric Baier tallied the lone goal for the Friars. Maine moves to 8-7-1 on the season with the win and 6-4-1 in Hockey East play. Providence falls to 7-7-1 on the campaign, 2-5-1 in conference play.
Maine struck first when Joey Diamond (Long Beach, N.Y.) stuff home the puck of a Will O'Neill (Salem, Mass.) blocked shot from the blueline. Diamond was able to redirect the puck past Providence goalie Alex Beaudry from the slot. Jeff Dimmen (Colorado Springs, Colo.) also assisted on the goal which came 9:41 into the first period. For Diamond, it was his fourth goal of the season.
Providence tied the game at 1-1 at 12:27 when Eric Baier received a pass from Matt Germain in the slot and beat Maine goalie Scott Darling (Lemont, Ill.). For Baier, it was his second goal of the season. Daniel New also picked up an assist on the goal.
The Black Bears scored what turned out to be the game-winner 4:39 into the second period when Kyle Solomon (Southampton, N.Y.) made a pass from the boards that was redirected by David deKastrozza (Toms River, N.J.) to Spencer Abbott (Hamilton, Ontario) streaking down the slot. Abbott fired the puck just inside the left post for his fourth goal of the season.
Maine iced the game with an empty-net power play goal at 19:31. Brian Flynn (Lynnfield, Mass.) passed the puck to Gustav Nyquist in the neutral zone. Nyquist took several strides before firing the puck into the empty net. For Nyquist, it was his 11th goal of the season.
Maine finished the game with a 36-26 edge in shots on goal. The Black Bears were 2-for-4 on the power play, while Providence finished 1-for-5.
Maine goalie Scott Darling made 25 saves en route to his fourth straight one goal game. He improves to 8-3-1 on the season. Alex Beaudry made 33 saves for the Friars. He falls to 6-5-1.
The Black Bears return to action when they host Northeastern on Saturday, Dec. 12 at 7 PM at Alfond Arena. It is the last game for Maine before the semester break. Tickets remain for the game and can be purchased by calling 207-581-BEAR or 1-800-756-TEAM. Providence will return to action when it hosts New Hampshire on Friday, Dec. 11.