MAINE SKATES TO 3-1 WIN AGAINST PROVIDENCE
Sophomore Gustav Nyquist scores twice for Black Bears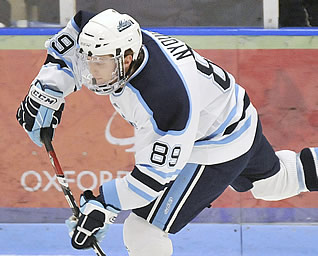 Gustav Nyquist scored two goals for the Black Bears
ORONO, Maine - Gustav Nyquist (Malmo, Sweden) had a pair of goals to lead the University of Maine men's ice hockey team past Providence 3-1 on Friday night at Alfond Arena in Orono, Maine. The Black Bears improve to 7-7-1 on the season and 5-4-1 in Hockey East play. Providence falls to 7-6-1 on the season and 2-4-1 in conference play.
Maine moves into sole possession of third place in the Hockey East standings with the victory.
The two teams skated through a scoreless first period. Each team registered nine shots apiece in the first frame. The Black Bears had a pair of great chances on a pair of breakaways. Providence had five power play opportunities in the first period alone.
Providence struck first with a goal 6:01 into the second period. Tim Smith kept the puck in at the blueline and found Chris Ronney on the goal line. Rooney skated up the boards and centered the puck to Tim Schaller in the slot who one-timed it past Maine goalie Scott Darling (Lemont, Ill.)
Maine evened the game at 1-1 just 14 seconds later. Nyquist stole the puck from a Friar, skated in on three Providence defenders and beat PC goalie Alex Beaudry with a shot from in front of the net. For Nyquist, it was his team-leading ninth goal of the season.
Nyquist notched the eventual game-winner midway through the second period. Maine broke in on an odd-man rush. Brian Flynn (Lynnfield, Mass.) got the puck to Tanner House (Cochrane, Alberta) who quickly passed to Nyquist. Nyquist then rifled a shot from the slot past the stick of Beaudry for his 10th goal of the season.
Nyquist nearly got the hat trick early in the third period when he was wide open on the post and put the puck in the net, but after a review, it was ruled that the puck was redirected in with his leg.
Maine held the 2-1 lead until the final minute of the game. While on the power play, Providence pulled goalie Beaudry in favor of an extra attacker. Maine's Matt Mangene (Manorville, N.Y.) was able to gain control of the puck and shoot it the length of the ice into the open net for his first collegiate goal.
Maine held a 30-23 edge in shots on goal in the game. Neither team was able to tally on the power play as Maine finished the game 0-for-4, while Providence was 0-for-8.
Darling finished the game with 22 saves. He improves to 7-3-1 on the season. Beaudry stopped 27 shots for the Friars and falls to 6-4-1 on the campaign.
The Black Bears and Friars return to action on Saturday, Dec. 5 at Alfond Arena. Puck drop is scheduled for 7 PM. Tickets remain for the game.