VERMONT CAPTURE CATAMOUNT CUP WITH 5-2 WIN OVER MINNESOTA-DULUTH
Wahsontiio Stacey posts goal and assist for Vermont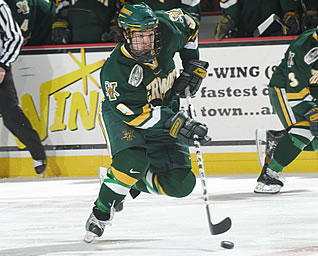 Wahsontiio Stacey had a goal and an assist for Vermont
BURLINGTON, Vt. - Vermont exploded for five goals and continued its non-conference dominance en route to winning the Sheraton/TD Bank Catamount Cup, 5-2, against No. 12 Minnesota-Duluth at Gutterson Fieldhouse on Sunday night. The Catamounts improved to 10-6-2 (4-5-2 HEA) with the win while the Bulldogs dropped to 12-6-1 (8-5-1 WCHA).
OTHER LINKS: Highlights | POSTGAME: Kevin Sneddon
"I thought we executed our game plan to a "T" and I'm really proud of how our guys competed against a great team," Vermont head coach Kevin Sneddon said. "Duluth's got a ton of skill and I think we did a great job of taking time and space away from them in their zone. We wanted to work them low and I think our guys did a great job on the cycle, obviously created a couple great plays down low and more importantly we kept them out of the neutral zone and the offensive zone as much as possible."
Freshmen Tobias Nilsson-Roos (Malmo, Sweden) and Sebastian Stalberg (Gothenburg, Sweden) as well as juniors Wahsontiio Stacey (Kahnawake, Que.) and Justin Milo (Edina, Minn.) each had a goal and an assist. Senior Brayden Irwin (Toronto, Ont.) scored on the power play for his team leading seventh goal of the season.
Milo had two goals and two assists on the weekend on the way to being named the Catamount Cup MVP. Irwin, Vock and junior co-captain Kevan Miller (Los Angeles, Calif.) were each named to the Catamount Cup all-tournament team.
Irwin started the scoring for the Catamounts at 12:25 of the opening period when his one timer on the power play beat UMD goalie Brady Hjelle (12 saves) to the top left corner. Vock and junior Kyle Medvec (Burnsville, Minn.) each assisted.
A penalty filled first 20 minutes included a combined seven power plays for the two teams. Vermont converted on just one of its five power play chances and despite an 11-4 shot advantage, led just 1-0 after the first.
Nilsson-Roos opened up a 2-0 lead when he took a feed from Stalberg in the low slot and beat Hjelle at 5:28 of the second. Freshman David Pacan (Ottawa, Ont.) also had an assist.
Vermont extended the lead to 3-0 on Milo's sixth goal of the year at 11:25. With the Catamounts in the middle of a change, Milo skated into the attacking zone and snapped a wrist shot off the glove of Hjelle and into the net. Sophomore Kenny Reiter (6 saves) replaced Hjelle in goal following the score.
Trailing by three goals, Duluth was whistled for its eighth penalty of the game when they had too many men on the ice early in the third period. Vermont took advantage with its second power-play goal at 5:53 when Stacey knocked in a rebound for his fifth tally of the year to make it 4-0. Sophomore Matt Marshall (Hingham, Mass.) and Milo both assisted.
Stalberg scored his first career goal at 10:16 to open up a 5-0 advantage for Catamounts. Nilsson-Roos and Pacan assisted.
Minnesota-Duluth sophomore Travis Oleksuk scored a power-play goal and sophomore Jack Connolly scored during a 4-on-4 to cut the deficit to 5-2 but it was too little too late for Duluth.
Sophomore Rob Madore (Pittsburgh, Pa.) finished with 23 saves as Vermont improved to 6-1 in non-conference play this season and 13-3-1 in its last 17 non-league games.
The Catamount Cup title is the third in the last five years for Vermont.
The Catamounts return to Hockey East play on Jan. 15 and 16 in a two-game series at Gutterson Fieldhouse against Northeastern.
SHERATON/TD BANK CATAMOUNT CUP ALL-TOURNAMENT TEAM
Justin Fontaine, Jr., F, Minnesota-Duluth
Brayden Irwin, Sr., F, Vermont
Kevan Miller, Jr., D, Vermont
Justin Milo (MVP), Jr. F, Vermont
Cameron Talbot, Jr., G, Alabama-Huntsville
Colin Vock, Sr., F, Vermont
NOTES: Check back to www.UVMathletics.com for game highlights and postgame comments from Kevin Sneddon ... Alabama-Huntsville won the consolation game of the Catamount Cup 4-1 against Mercyhurst ... Vermont finished 2-for-8 on the power play while UMD was 1-for-7 ... The Catamounts are 7-2-1 at home this season ... Colin Vock extended his point streak to six games and he has nine points in that stretch ... Justin Milo has 14 points in 12 games ... Vermont is 59-18-15 in its last 92 games when scoring first.