Friday, February 19, 2010
MERRIMACK PICKS UP 4-1 WIN OVER MASSACHUSETTS
Junior Joe Cucci posts hat trick for Warriors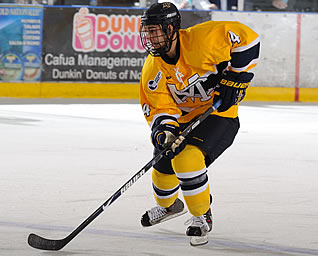 Joe Cucci had a hat trick for the Warriors
NO. ANDOVER, Mass. - Joe Cucci (Melrose Park, IL) netted his first collegiate hat trick, as Merrimack improved to a nation's best 11-2 at home with a 4-1 win over #18 Massachusetts Friday night in front of 2,281 fans at Lawler Arena.
Merrimack (12-15-1, 9-11-1 HEA) and the Minutemen (16-14-0, 11-12-0 HEA) conclude their season-series Saturday night at the Mullins Center at 7:30 p.m. The game will be televised live by NESN.
The win, coupled with a Vermont loss, moves Merrimack into eighth place in the Hockey East standings, one point behind Lowell for seventh place.
The Warriors are unbeaten (3-0-1) in their last four, their longest Hockey East streak since 1999-00. The win is Merrimack's ninth in Hockey East, its most since 1996-97.
The nation's second-ranked power play gave Merrimack the early lead as the Warriors needed just 32 seconds of power-play time over two opportunities to put two goals on the board in the first 9:49 of the game.
A Karl Stollery (Camrose, AB) shot from the blue line was blocked and went right to Cucci, who buried it for his first of the game at 3:56, just eight seconds into the first power play. Stephane Da Costa (Paris, France) picked up the second assist on the goal, his 23rd of the season. Jeff Velleca (Waterbury, CT) made it 2-0 at 9:49, as Fraser Allan's (North Battleford, SK) shot went right to the sophomore, who caught goaltender Paul Dainton out of position, and buried it for his seventh of the year and second in as many games.
Cucci made it 3-0, 2:46 into the second as he broke down the ice two-on-one with Brandon Brodhag (Brooklyn Park, MN) and shook off the freshman forward and beat Dainton blocker side for his second of the night.
James Marcou tallied his 10th of the year on a two-man advantage cutting the lead to two, but Joe Cannata (Wakefield, MA) and the defense held it from there, stopping 21 shots, while improving to 6-9-1 after making his fourth straight start. The Warrior defense blocked 17 shots in front of Cannata, killing four of five penalties.
Cucci concluded the hat trick, Merrimack's second of the season, at 13:05 of the third, as he gathered a loose puck in front of Dainton and knocked it home. Todd picked up his third assist of the game on the goal, setting a career-high, while Pat Bowen (Marshfield, MA) added the second helper, his 15th of the season.
Merrimack finished 2-for-3 on the power play and outshot the Minutemen 27-22, including 11-4 in the third.
The win was the Warriors' third straight at home over the Minutemen and fifth in the last six home meetings.