Saturday, December 12, 2009
MASSACHUSETTS SKATES TO 4-1 WIN OVER MERRIMACK
Will Ortiz notches two goals and Paul Dainton makes 33 stops for Minutemen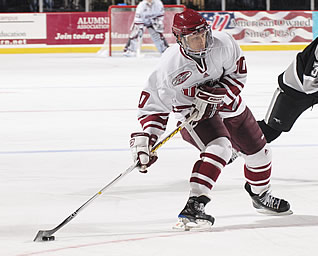 Will Ortiz had two goals for the Minutemen
AMHERST, Mass. - Will Ortiz scored two goals to help #15 UMass Hockey snap its three-game losing streak with a 4-1 win over Merrimack on Saturday night. Casey Wellman and T.J. Syner also scored for the Minutemen (10-5-0, 6-4-0 HEA), while Paul Dainton made 33 saves in goal. Stephane Da Costa scored the lone goal for the Warriors (7-8-0, 4-6-0 HEA). The Mass Attack will have two weeks off before traveling to Storrs, Conn. to compete in the UConn Tournament. Massachusetts will faceoff against Union on December 29 at 4 PM.
The Minutemen outshot Merrimack 39-34 for the game, and went 1-for-2 on the power play. The Warriors were 0-for-3 on the man advantage, with UMass netting its first shorthanded tally of the year.
While Merrimack applied pressure during the opening minutes of the first period, the Minutemen began to take control as the stanza progressed, generating 18 shots on Braithwaite and taking a 1-0 lead midway through the frame.
Ortiz netted his sixth goal of the season with nine minutes remaining in the period. After Chase Langeraap skated into the Warrior zone, he took a shot from above the haskmarks that was saved by Braithwaite. Ortiz was waiting for the rebound, though, and pounded it past the senior netminder. Darren Rowe was also credited with an assist, his first collegiate point. UMass had two power play chances, with one spilling into the second period, and the Minutemen threw five shots on goal during their man advantage.
Massachusetts was awarded a five-on-three power play during the first two minutes of the second period, and used it to jump out to a 2-0 lead on Casey Wellman's 13th goal of the year. After Matt Irwin fed James Marcou with a pass down low, Marcou dished the puck to Wellman at the left faceoff dot for the one-timer past Braithwaite.
Merrimack brought it back to a one-goal game with one minute left in the period on Stephane Da Costa's ninth goal of the season. Chris Barton controlled the puck down the left side of the UMass zone before threading a pass through a Minuteman defender and onto the stick of Da Costa for the tap-in.
UMass continued to dictate play throughout the third period, scoring twice with just six shots on goal. Ortiz got his second of the night nine minutes into the frame when he intercepted a pass off a clearing attempt and lifted a backhand over Braithwaite's left shoulder.
T.J. Syner followed Ortiz's goal with one of his own two minutes later, his third of the year. While on the penalty kill, Syner broke up a pass from a Merrimack defender and went in one Braithwaite uncontested. Syner went across the crease and beat Braithwaite on his left side.