Saturday, January 23, 2010
BRODHAG LIFTS MERRIMACK TO 2-1 OVERTIME WIN OVER PROVIDENCE
Freshman Brandon Brodhag scores game-winner 1:03 into overtime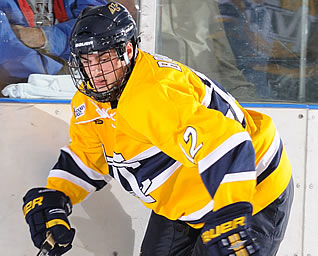 Brandon Brodhag picked up the game-winner for the Warriors
NORTH ANDOVER, MA - Brandon Brodhag (Brooklyn Park, MN) scored 1:03 into overtime, giving Merrimack the 2-1 sudden death victory over Providence College Saturday night in front of 2,267 fans at Lawler Arena in the first home game for the Warriors in seven weeks.
Merrimack (8-13-0, 5-9-0 HEA) returns to action Friday when it hosts the University of New Hampshire at 7 p.m. Providence (9-13-1, 4-11-1 HEA) will visit Boston College next Friday at 7 p.m.
Brodhag, who scored two goals Friday at Lowell, beat Alex Beaudry on a rebound shot off a Pat Bowen (Marshfield, MA) slapper from the point. Beaudry stopped Bowen's shot but left the rebound to his right, and Brodhag was there to put it away and gave the Warriors the overtime victory, snapping a seven-game losing streak. Jesse Todd (Camrose, AB) picked up the other assist on the goal as his hard work along the boards proved critical in getting the puck to Bowen on the point.
The victory improves Merrimack to 8-1 at Lawler Arena this season.
As the game progressed, the Warriors began to pull away, controlling possession for much of the third, but Beaudry kept his team in the game, making 39 saves in all, including 11 on Stephane Da Costa (Paris, France).
Da Costa and the Merrimack faithful thought he had given his team the victory with 1:07 remaining in regulation after he dribbled through two defenders, but Beaudry robbed him with a glove save, extending his left arm as far as possible to keep the score deadlocked at one.
Making his third start in four games, Andrew Braithwaite (Kingston, ON) matched Beaudry save for save, making 34 stops, including 25 in the first two periods. Braithwaite improved to 5-4 on the season with the victory.
The Warriors opened the scoring at 15:04 of the first as sophomore Carter Madsen (Calgary, AB) scored on a rebound off a shot from Adam Ross (Red Deer, AB) for his second of the season. Brandon Sadlowski (St. Paul, AB) notched the second assist on the goal, his sixth of the year.
But the Friars rebounded in the second as Ian O'Connor tied the game at 15:49. Eric Baier's shot from the point was stopped by Braithwaite, but O'Connor was there for the rebound and fired it past the senior goaltender for his sixth of the year.
The teams played a scoreless and penalty-free third period, with Beaudry making 11 saves, sending the game into overtime.
Neither team scored on the power play, with Merrimack going 0-for-2 with seven shots and Providence failing on all four attempts.
The Warriors are now 4-1-2 in the last seven meetings against the Friars.