NORTHEASTERN SKATES PAST MERRIMACK, 5-1
Juniors Wade MacLeod and Tyler McNeely each post goal and two assists for Huskies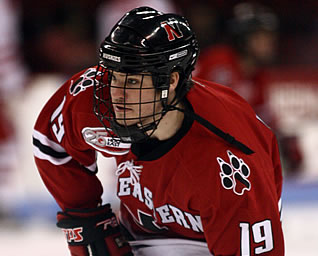 Wade MacLeod had a goal and two assists for the Huskies
NORTH ANDOVER, MA - Tyler McNeely and Wade MacLeod tallied three points each as Northeastern handed Merrimack just its second loss on home ice with a 5-1 victory at Lawler Arena Friday night.
Merrimack (9-15-0, 6-11-0 HEA) will conclude its season-series with #18 UMass Lowell, hosting the River Hawks Saturday at 7 p.m. Northeastern (12-12-1, 8-10-1 HEA) will battle Harvard University in the Beanpot consolation game Monday at 5 p.m. at the TD Garden.
The Huskies dominated the first, as McNeely netted a goal and two assists, as the visitors scored two power-play goals and outshot Merrimack 12-9. Justin Daniels scored just 30 seconds into the game, taking a McNeely feed and backhanding it past Andrew Braithwaite (Kingston, ON).
Chris Barton (Calgary, AB) scored his 16th of the year at 6:20 of the second, getting the Warriors on the board. With the nation's second-best power play on the ice, Stephane Da Costa (Paris, France) one-timed a pass from Fraser Allan (North Battleford, SK) wide of the Husky net, but the puck bounced right off the boards to Barton, who fired it into the net for his eighth goal in the last six games.
But any hopes of a comeback were dashed, as the Warriors took three straight minors to close out the second, and Drew Daniels redirected a David Strathman shot at 17:16 for the Huskies' third man-advantage goal of the game.
Merrimack outshot its opponent 17-2 in the third but could not get one past Chris Rawlings, who finished with 37 saves.
Making his fourth straight start, Braithwaite stopped 19 shots in the loss.
Northeastern finished 3-for-8 on the power play, while the Warriors were 1-for-5.
Da Costa posted a game-high seven shots, while Barton and Jesse Todd (Camrose, AB) had five each.
Merrimack entered Friday's game with a 9-1 home record, the best mark in the country.