Saturday, February 27, 2010
NYQUIST LEADS MAINE PAST MERRIMACK, 5-1
Gustav Nyquist has two goals and two assists for Black Bears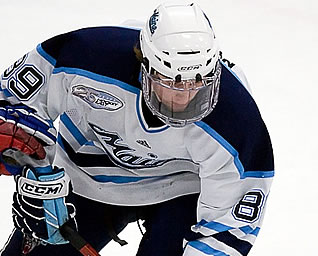 Maine's Gustav Nyquist had two goals and two assists
NORTH ANDOVER, MA - Gustav Nyquist had two goals and two assists as 16th-ranked Maine defeated Merrimack 5-1 Saturday night to salvage a weekend split in front of 2,793 fans at Lawler Arena.
Merrimack (14-17-1, 11-13-1 HEA) will head to Providence next Friday at 7 p.m. to begin a home-and-home series with Friars. Maine (17-13-3, 15-10-2 HEA) will conclude its regular season with a pair of games against UMass beginning next Friday at Alfond Arena in Orono.
The Warriors, who fell to 12-3 at home, sit in seventh place in Hockey East with two games remaining, while the Black Bears remain in third with 30 points.
Maine came out strong in the first, scoring twice in a 1:13 span late in the period, as Brian Flynn netted a short-handed goal, and Nyqist wristed a shot on the power play past Joe Cannata (Wakefield, MA).
In the lineup for the first time in nine games, John Heffernan (Scituate, MA) gathered the rebound off his own shot and wristed it past goaltender Shawn Sirman for his second career goal at 18:54 of the first, assisted by Carter Madsen (Okotoks, AB).
But after the Warriors killed three second-period power plays, Nyquist struck again with the teams skating four aside, wristing another shot past a screened Cannata for his 17th of the year, assisted by Mark Nemec and Tanner House with just 56 seconds remaining in the second.
Robby Dee put the game away at 4:28 of the third, pushing the lead to three goals, taking feeds from Jeff deKastrozza and Jeff Dimmen and beating Cannata and ending the evening for the sophomore goaltender.
Flynn added his second of the game with 3:20 left, working a pretty give-and-go with Nyquist for his 17th of the year.
Making just his fourth start of the season, Sirman stopped 24 shots for his first collegiate win. Cannata made 23 saves, before giving way to Andrew Braithwaite (Kingston, ON), who stopped eight shots in the final 15 minutes.
Merrimack's power play struggled, going 0-for-8 and registering just seven shots. Maine's power play, ranked first nationally, was 1-for-5.