Saturday, January 2, 2010
HUTTON, UMASS LOWELL SHUT OUT HOLY CROSS, 3-0
Carter Hutton makes 32 saves in River Hawks net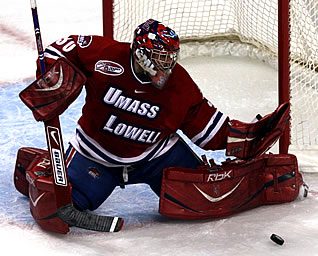 Carter Hutton gets shutout with 32 saves
HANOVER, N.H. - Coming off of the holiday break, the #12/14 UMass Lowell River Hawks (11-6-1, 5-4-1 HE) stormed to a 3-0 win over Holy Cross (4-10-4, 4-6-3 AHA) to open the Ledyard Bank Classic at Dartmouth College. In the win, goaltender Carter Hutton (Thunder Bay, Ont.) picked up his ninth career shutout, breaking the UMass Lowell record previously held by Cam McCormick (1999-02).
A first period Holy Cross penalty near the midpoint set up the game's first power play and, eventually, the game's first goal. With sustained pressure in the Crusader zone, Paul Worthington (Langhorne, PA) slid the puck from the near boards to Jeremy Dehner (Madison, WI) centered at the blue line. Dehner shifted it to Maury Edwards (Rocky Rapids, Alta.) at the far boards and he unleashed a rocket that hit a Holy Cross defenseman, floated up in the air and past goaltender Thomas Tysowsky (Amherst, NY). The goal was Edwards' third of the season and gave the River Hawks a 1-0 advantage.
The positive momentum continued to build as Kory Falite (Billerica, MA) picked up his team-leading ninth goal of the season, 7:24 into the second period. Following a dump into the Crusader zone, David Vallorani (Hamilton, Ont.) picked Holy Cross' pocket, then back-handed a pass off the boards to Falite. The senior forward skated towards the net using a Crusader defenseman as a screen to launch a tough angled shot that found a hole on the near post.
UMass Lowell scored its second power play goal of the game with roughly four minutes remaining in the second stanza. Off of the face off, Worthington set up Falite for a one-timer which was saved by Tysowsky. The rebound sat untouched outside the crease before Ben Holmstrom (Colorado Springs, CO) back-handed it into the net to extend the River Hawks' lead to 3-0.
In a record breaking performance, Hutton stopped 32 shots to improve to 6-4-0 on the season. Hutton made 25 of his 32 saves in the final two periods, killing off three River Hawk penalties in the third period to preserve the shutout. Holy Cross' Tysowsky stopped 22-of-25 shots to fall to 4-8-4 in 2009-10.
UMass Lowell now awaits the results of tonight's game between Northeastern and tournament host Dartmouth to see who the River Hawks will face in tomorrow's championship game. The puck drops at 7 p.m.