MERRIMACK UPENDED BY FERRIS STATE, 5-1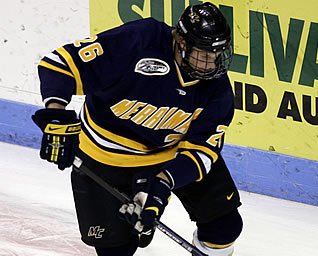 Adam Ross scored the Merrimack goal
MADISON, WI - Adam Ross (Red Deer, AB) scored for Merrimack but the 11th-ranked Ferris State Bulldogs defeated the Warriors 5-1 at the consolation game of the 21st and final Badger Hockey Showdown at the Kohl Center.
Merrimack (7-10-0, 4-6-0 HEA) returns to Hockey East action for the remainder of the regular season beginning Saturday night at 7 p.m. at the University of Maine in Orono.
The Bulldogs, who lost 6-1 to Yale Saturday night which snapped a 10-game unbeaten streak, came out strong, outshooting Merrimack 16-7 in the first while taking a 2-0 first period lead on a goal from Casey Haines and a goal and an assist from Blair Riley.
Ferris State picked up right where it left off in the second as Aaron Schmit notched his first collegiate goal 2:35 into the period to increase the lead to three goals.
Ross got the Warriors on the board with his first of the season at 7:34 of the second. The junior assistant captain wristed a shot past goaltender Pat Nagle, taking a drop pass from Pat Kimball (Framingham, MA), executing a three-on-two for the tally, Ross' fourth career goal.
Chris Barton (Calgary, AB) started the third period with an excellent scoring chance but his shot from just inside the circle was stopped with the stick by a sprawling Nagle. Any momentum the Warriors hoped to use from that was squashed as they took two minor penalties in the first 6:29 of the third with the latter resulting in a power-play goal from Justin Menke and a three-goal lead for the Bulldogs. Zach Redmond added a late man-advantage marker, giving Ferris State the 5-1 victory.
"We were very excited about coming to this tournament because of the level of the other teams," said head coach Mark Dennehy. "It was an opportunity to measure up against top teams and to prepare us for league play. It was disappointing how we came out of it."
In the game, Merrimack committed seven minor penalties, killing off five of the seven Bulldog man-advantages. The Warriors were 0-for-3 on the power play.
Making his second start in as many days for the first time this season, Joe Cannata (Wakefield, MA) posted 26 saves, including 14 in the first period.
Nagel stopped 23 shots in net for Ferris State, improving to 5-2-1 on the season. Twelve different Bulldogs recorded a point, with Riley and Haines earning multiple points.
Freshman Stephane Da Costa (Paris, France) saw his 11-game point streak, the longest in Merrimack's Division I history and in Hockey East this season, come to an end in the loss.
Sunday's game marked the second-ever meeting between the two teams and the first since Merrimack and Ferris State became Division I programs.