Saturday, October 10, 2009
CATAMOUNTS SKATE TO 6-4 WIN OVER PIONEERS
Brayden Irwin scores two goals for Catamounts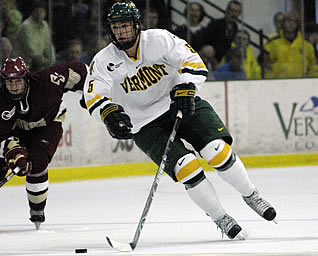 Brayden Irwin scored a pair of goals for Vermont
DENVER - No. 14 Vermont exploded for six goals and earned its first victory against the nation's top ranked team since 2004 with a 6-4 victory over No. 1 Denver on Saturday night in front of a crowd of 5,358 at Magness Arena. Senior Brayden Irwin (Toronto, Ont.) scored a pair of goals as the Catamounts (1-1-0) split their weekend series against the Pioneers (1-1-0).
Vermont's last win against the nation's top-ranked team came on Oct. 29, 2004 in a 3-2 victory at Minnesota-Duluth.
The victory came one night after relinquishing a two-goal third period lead in a 5-4 loss to the Pioneers on Friday.
"We're very proud of our team for lessons learned from last night and applying them tonight," Vermont head coach Kevin Sneddon said. "It was a great college hockey game. It had a little bit of everything; huge saves, big hits, a penalty shot, great offensive chances and great defensive plays. Both teams I think are much better for having played each other this weekend."
Irwin took a five-minute hit from behind and a game misconduct penalty in a loss to DU on Friday. He responded with the second two-goal game of his career in Saturday's win.
"He was sensational," Sneddon said. "I didn't want him to have a negative feeling from last night. It was an unfortunate circumstance, but he had been playing so well. We didn't want him to all of a sudden play passively and change his game at all. I was pleased that he didn't."
Junior Jack Downing (New Canaan, Conn.) scored a power-play goal and senior Colin Vock (Detroit, Mich.) scored on a penalty shot for the Catamounts. Seniors Jonathan Higgins (Stratham, N.H.) and Brian Roloff (West Seneca, N.Y.) also scored.
Senior Tyler Ruegsegger notched a pair of goals for DU, who dropped to 59-20-1 in its last 80 non-conference games.
Vermont took a 4-3 lead to the final period after Irwin scored at 15:46 of the second. Irwin came off the right wing and beat Denver goalie Adam Murray (24 saves) with a backhander as he went flying through the air in the slot. Junior co-captain Kevan Miller (Los Angeles, Calif.) assisted.
Higgins opened up a two-goal advantage for the Catamounts 3:02 into the third period. Freshman Ben Albertson (Williston, Vt.) snapped a wrist shot from the left circle and Murray made the initial save. But the rebound came to Higgins streaking down the slot and he found the net to make it 5-3 Vermont. Senior assistant captain Patrick Cullity (Tewksbury, Vt.) also assisted.
Denver cut the deficit to 5-4 when freshman Shawn Ostrow sent a diagonal pass into the slot that deflected off Cullity's skate and past sophomore goalie Rob Madore (Pittsburgh, Pa.) (30 saves) at 5:14 of the final period.
Roloff answered for the Catamounts when he swept through the low slot on the rush and beat Murray inside the left post at 6:52 of the third to put Vermont in front 6-4. Sophomore Matt Marshall (Hingham, Mass.) and freshman Anders Franzon (Plattsburgh, N.Y.) both assisted.
Madore made 10 saves in the final period to preserve the win, including a stop from point blank range on Joe Colborne with less than 90 seconds remaining.
Ruegsegger started the scoring for DU at 5:55 of the first period before Irwin scored his first of two goals to tie the game at 7:29.
After Ruegsegger notched his second goal at 14:11 of the first, Downing scored on the power play at 17:49 to even the score at 2.
Vermont took its first lead when Vock scored on a penalty shot at 5:31 of the second period. Vock was hauled down from behind on the rush and then beat Murray five-hole on the penalty shot.
Vermont returns to action next Sunday at Gutterson Fieldhouse against Boston College at 5 p.m. The game will be televised on ESPNU.
NOTES: Freshmen Ben Albertson and Anders Franzon both had assists in their first career starts ... Rob Madore had 68 saves on the weekend ... Vermont went 1-for-1 on the power play while Denver was 0-for-3 ... The Catamounts are 1-4-0 all-time against the Pioneers ... Vermont is 19-16-6 against ranked opponents dating back to the start of the 2007-08 season.