Saturday, December 19, 2009
VERMONT HOLDS ON FOR 4-3 WIN OVER DARTMOUTH
Junior Jack Downing posts goal and assist for Catamounts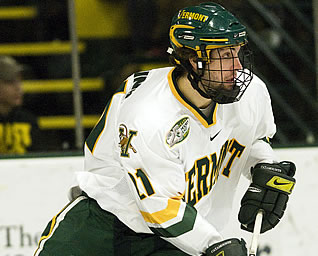 Jack Downing had a goal and an assist for Vermont
BURLINGTON, Vt. - Four different Catamounts scored goals, sophomore Rob Madore (Pittsburgh, Pa.) made 31 saves and special teams shined again for Vermont in a hard-fought 4-3 victory against Dartmouth on Saturday evening at Gutterson Fieldouse. The Catamounts improved to 8-6-2 (4-5-2 HEA) overall and 4-1-1 in their last six games heading into the holiday break.
OTHER LINKS: Highlights | POSTGAME: Kevin Sneddon | Brian Roloff
Senior Brayden Irwin (Toronto, Ont.) and junior Jack Downing (New Canaan, Conn.) both scored on the power play for the Catamounts. Freshmen Chris McCarthy (Collegeville, Pa.) and Tobias Nilsson-Roos (Malmo, Sweden) scored at even strength. Seniors Brian Roloff (West Seneca, N.Y.) and Colin Vock (Orlando, Fla.) both had two assists.
Freshman Mark Goggin scored twice for Dartmouth (3-8-0, 1-6-0 ECAC) and sophomore goalie Jody O'Neill stopped 36 shots.
Vermont went 2-for-6 on the power play and has scored a total of six power-play goals in the last three games. They also went 4-for-4 on the penalty kill and improved to 35-for-35 on the kill in their eight wins this season.
"I thought we did some really good things tonight, at different points of the game," Vermont head coach Kevin Sneddon said. "I thought the power play moved the puck extremely well; we had a number of good opportunities and obviously we had good timely scoring."
Irwin's team leading sixth goal of the season put the Catamounts in front 1-0 at 10:10 of the opening period. With Vermont on the power play, junior Kyle Medvec (Burnsville, Minn.) setup Irwin at the left circle for a one timer. Vock also assisted.
A power-play goal by Downing at 18:09 extended the lead to 2-0. Vock feathered a backdoor pass to Downing at the right post for his fifth tally of the season. Roloff also assisted.
Goggin scored his first of two goals with just 2 seconds left in the period on a rebound in transition to cut the deficit to 2-1.
It looked like Vermont was going to take its one-goal lead to the final period but junior Evan Stephens scored with 11 seconds remaining in the second on a rebound to tie the game 2-2.
McCarthy put the Catamounts back in front at 9:36 of the third period with his fifth goal of the year. McCarthy scored off an offensive zone face off with juniors Josh Burrows (Prairie Grove, Ill.) and Justin Milo (Edina, Minn.) both assisting on the play.
Vermont reopened a two-goal cushion on the first career goal for Nilsson-Roos at 11:13. Nilsson-Roos crashed to the net on a centering feed from Roloff and stuffed the puck by O'Neill. Downing also picked up an assist.
"Nilsson-Roos going hard to the net; I thought it was a great play for us," Sneddon said. "The last two goals we kind of had to score. The net hunger was really good on those two plays, by two freshmen."
Dartmouth responded just over a minute later on Goggin's second goal of the game. He beat Madore with a wrist shot from the high slot to make it 4-3 but the Big Green would get no closer.
"We made some nice plays tonight and I was impressed with our guys ability to make plays," Sneddon said. "Unfortunately we had a few breakdowns at critical times that ended up costing us and that was really the only disappointing part. But again, we did some really good things. I thought Dartmouth played a very tough game against us, they were physical, they had a lot of good chances to win the game too, it just came down to us playing with the one-goal lead late."
Vermont returns to action on Jan. 2 at 7:05 p.m. against Alabama-Huntsville in the opening round of the Sheraton/TD Bank Catamount Cup. Minnesota-Duluth squares off against Mercyhurst in the early game at 4 p.m. Tickets to the Catamount Cup are available online at www.UVMathletics.com.
NOTES: Check back to www.UVMathletics.com for game highlights and postgame comments from Kevin Sneddon and Brian Roloff ... Vermont had a season high 40 shots ... Brayden Irwin and Tobias Nilsson-Roos each had five shots ... The Catamounts lead the all-time series against Dartmouth 45-22-5 ... UVM is 23-7-2 at Gutterson against the Big Green ... Vermont improved to 4-1 in non-league play this year and 11-3-1 in its last 15 non-league games ... The Catamounts are 26-12 in one-goal games since the start of the 2007-08 season.