NEW HAMPSHIRE TOPPLES CORNELL, 6-2, AT NCAA EAST REGIONAL
Bobby Butler and Paul Thompson each post two goals and assist for Wildcats; Mike Sislo also scores twice for UNH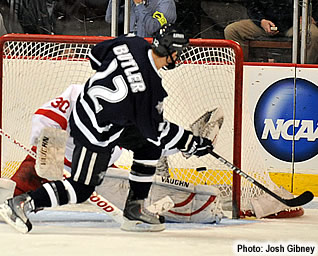 Bobby Butler picks up a goal for the Wildcats
ALBANY, N.Y. - Bobby Butler (Marlboro, Mass.) and Paul Thompson (Derry, N.H.) each registered a pair of goals and an assist to lift the 12th-ranked University of New Hampshire men's hockey team to Friday night's 6-2 win against sixth-ranked Cornell University in first round action at the 2010 NCAA East Regional held at Albany's Times Union Center. The Wildcats return to the regional finals for the second-straight season and will play fourth-seeded Rochester Institute of Technology (RIT), which defeated top-seeded Denver, 2-1, in the day's first semifinal. New Hampshire is in search of its eighth trip to the Frozen Four and its since 2003.
UNH, which is making its ninth-consecutive trip to the NCAA's, improves to 18-13-7 and is a perfect 3-0-0 all time against the Big Red in NCAA play. Cornell concludes its season with a 21-9-4 mark.
Overall seven players registered a point with six scoring multiple points. In addition to Butler and Thompson, linemate Phil DeSimone (East Amherst, N.Y.) dished out a pair of assists, Mike Sislo (Superior, Wis.) had two goals and his linemate Greg Burke (Lee, N.H.) and defenseman Blake Kessel (Verona, Wis.) each handed out a pair of assists.
New Hampshire controlled play for the majority of the first period, but it was Cornell breaking the final minute as Tyler Roeszler scored at 19:11 with an assist from Joe Devin. The Wildcats held a 14-5 shot advantage in the frame.
The Wildcats tied it up on a one-timer from center ice from Butler, who picked up a loose puck that was turned over by the Big Red and fired it on from the center slot. The puck, which went through the Cornell net, was not ruled a goal until after video review. The goal was review at 17:34 and was ruled a goal officially at 16:47. The goal, which ended netminder Ben Scrivens shutout streak that spanned over three games, over 267 minutes, 12 periods and 104 shots, was followed by a second Wildcat tally just 26 seconds later. Sislo scored on a tic-tac-toe goal from the right slot. The goal at 17:13 of the period was assisted by Burke and Kessel. The Big Red held an 11-6 shot advantage in the second period.
Thompson scored from the right point after accepting a cross-ice pass from Butler at 2:52 of the second period. DeSimone started the play and was credited an assist. The Wildcats made it 4-1 as Thompson returned the favor as he chipped the puck to the top of the blue line setting up Butler one-on-none and Butler finished beating Scrivens on the top glove side. For Butler it was his nation-leading 29th goal of the season. DeSimone assisted on the play for his 27th helper of the year. Sislo extended the lead to 5-1 on a one-timer from the center slot with assists from Peter LeBlanc (Hamilton, Ontario) and Burke at 15:14. The Big Red would score to make it 5-2 at 17:49 as Dan Nicholls scored with an assist from Riley Nash and Keir Ross, but New Hampshire closed out scoring with an empty-net goal by Thompson with an assist from Kessel at 19:27 of the third.
Brian Foster (Pembroke, N.H.) registered 24 saves including 11 in the second period and improves to 17-13-7, while Cornell's Scrivens finishes the season 21-9-4.
UNH held a 37-26 shot advantage including a 17-10 edge in the third period. Cornell was 0-2 on the power play, while New Hampshire was 0-1 in its extra-skater opportunities.
UNH advances to the NCAA East Regional finals on Saturday, March 27 against RIT. Puck drops at 6:30 p.m. at Times Union Center in Albany, N.Y. The game will air live on ESPNU. The winner will advance to the Frozen Four in Detroit, Mich. April 8 and 10. For more information on UNH hockey including live stats, live video, tickets and live audio log onto www.UNHWildcats.com.
PHOTO GALLERY