BOSTON UNIVERSITY TIES UP VERMONT, 3-3
Sophomore Corey Trivino nets game-tying goal for Terriers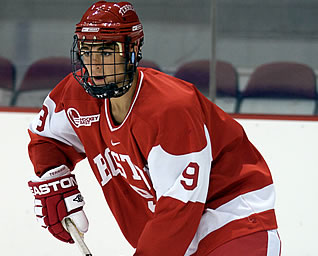 Corey Trivino scored the game-tying goal for the Terriers
BOSTON, Mass. - For the second time in as many games, the Boston University men's ice hockey team rallied from a 3-1 deficit to earn a draw, as the Terriers skated to a 3-3 tie with No. 19 Vermont on Friday evening at Agganis Arena. BU, which played in a fourth straight overtime game for the first time in program history, now stands at 4-7-3 overall and 2-6-2 in Hockey East play.
Sophomore Corey Trivino scored the game-tying tally on a power play with 5:18 left in regulation, as he elevated a rebound above the right post over UVM netimnder Rob Madore after a shot by classmate Vinny Saponari went off the crossbar. In all, BU hit four pipes on the night, including two more after Saponari's while in search of a game-winner.
Vermont (6-5-2, 4-4-2 HE) jumped out to a 2-0 lead with goals 34 seconds apart from freshmen Chris McCarthy and David Pacan towards the end of the first period. BU got one back when senior Eric Gryba potted his first goal of the season just over four minutes into the second.
The Catamounts regained a two-goal edge on a goal by junior Wahsontiio Stacey at the 8:11 mark of the middle period, but sophomore Ross Gaudet made it a one-goal affair after two when he buried a rebound at 14:22 of the second.
Madore made 37 saves, including 13 in both the first and third periods, while sophomore Grant Rollheiser turned in a 21-save performance for the Terriers.
BU is now undefeated in its last four contests, posting a 1-0-3 record during the stretch, and 2-1-3 since losing four consecutive games from Oct. 31-Nov. 13.
The Terriers' game-tying goal was the only successful power play on of the night, as BU went 1-of-6 with the man advantage and Vermont came up empty on all three of its chances. Friday's contest kicked off a four-game homestand for BU, which will return to action on Saturday (Dec. 5) when it welcomes archrival Boston College to Agganis for a 7 p.m. contest. Vermont will host New Hampshire on Sunday (Dec. 6) in a 3 p.m. contest that will be broadcast live by ESPNU.