Saturday, November 21, 2009
TERRIERS SKATE TO 3-3 DRAW WITH WILDCATS
Corey Trivino picks up game tying goal for BU; Paul Thompson had two goals and assist for UNH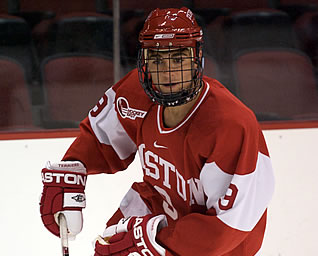 Corey Trivino picked up the game-tying for the Terriers
BOSTON, Mass. - Behind goals from three sophomores, the Boston University men's ice hockey team skated to a 3-3 draw with New Hampshire on Saturday evening at Agganis Arena in the finale of a home-and-home weekend. Corey Trivino tallied the game-tying goal on a power play with 8:08 left in regulation and classmates David Warsofsky and Vinny Saponari also found the back of the net, as the Terriers move to 3-7-1 overall and 2-6-1 in Hockey East play.
UNH was paced by junior Paul Thompson, who tallied two goals and an assist to earn first-star honors. Senior Bobby Butler assisted on all three goals by the Wildcats, who now stand at 4-6-3 overall with a 4-2-2 conference mark.
BU held a 37-30 shot advantage for the game and got a career-high 27 saves from sophomore goaltender Grant Rollheiser. Senior Brian Foster made 34 saves in goal for the visitors.
Thompson opened the scoing when his shot deflected off a BU stick and sailed over Rollheiser at at 5:22 of the first.
BU tied the game before the first intermission, as Warsofsky finished off a nice pass by freshman Alex Chiasson from the left slot in transition with 5:04 left in the opening period. Junior Nick Bonino also assisted on the play.
The Terriers took what would be their only lead of the weekend in the second, as Saponari took a pass from senior Zach Cohen adn curled around left circle and charged towards the net before flinging the puck off a UNH defender and into the goal at 16:56.
The Wildcats struck twice in the early stages of the third to regain the lead. Just 20 seconds into the period, junior Phil DeSimone knocked home a rebound at the foot of the left circle following a saved shot by Butler.
Thompson potted his second goal of the game with 13:55 left in the third on a power play to give the visitors a 3-1 lead.
On its last of only two power-play chances on the night, BU came up with the equalizer. Junior Kevin Shattenkirk found Trivino just inside the right circle and the sophomore buried it with 8:08 left in regulation.
Each team had chances to take the lead late and the Terriers held a 4-2 shot advantage in overtime despite having to kill off their sixth penalty of the night in the extra stanza, but the league rivals settled for the draw. UNH posted a 4-2 home win over the Terriers on Friday to come away with three points on the weekend.
BU will return to action on Tuesday (Nov. 24) when it makes the short trip to Harvard for a 7 p.m. contest, while UNH will next play on Saturday (Nov. 28) in a road game at Merrimack.