Saturday, January 23, 2010
NEW HAMPSHIRE SKATES PAST BOSTON UNIVERSITY, 4-1
Damon Kipp and Mike Sislo each post goal and assist for Wildcats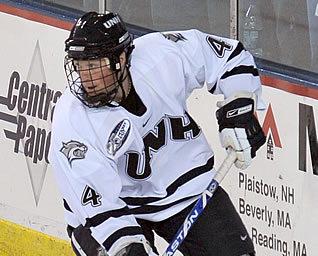 Damon Kipp had a goal and an assist for UNH
BOSTON - The Boston University men's ice hockey team came up short in its attempt for a third straight win on Saturday, dropping a 4-1 contest to No. 16 New Hampshire at Agganis Arena. The Terriers now stand at 8-11-3 on the year with a 6-9-2 Hockey East record.
Sophomore Damon Kipp scored the eventual game winner and added an assist for the Wildcats, who improve to 12-7-4 overall with a 11-2-3 conference mark to remain in first place in the league standings.
Sophomore Mike Borisenok opened the scoring for the visitors just over five minutes into the game, senior Bobby Butler added his 17th goal of the season and junior Mike Sislo added a late power-play tally.
UNH, which is now 10-1-2 over its last 13 games, got a 34-save performance by senior goaltender Brian Foster. Sophomore Grant Rollheiser made 28 saves for BU while suffering his first loss in over a year, as he had been 4-0-4 in his last eight decisions dating back to Jan. 13, 2009.
Trailing 3-0 in the third, the Terriers got a power-play goal from sophomore Chris Connolly with 10:51 left in regulation, but could not get another shot past Foster and the UNH defense.
BU will return to action on Friday (Jan. 29) when it plays host to No. 15 Massachusetts in a 7 p.m. start.