Saturday, October 31, 2009
UMASS LOWELL SKATES TO 3-2 WIN AT BOSTON UNIVERSITY
Ben Holmstrom posts goal and assist for River Hawks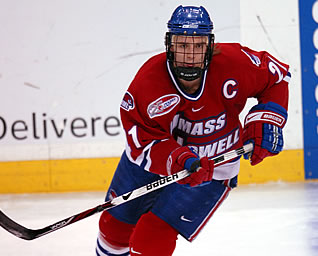 Ben Holmstrom had a goal and an assist for UML
BOSTON - The fourth-ranked Boston University men's ice hockey team fell to eighth-ranked UMass Lowell, 3-2, on Saturday evening at Agganis Arena as the River Hawks salvaged a split of the home-and-home weekend series. Senior captain Ben Holmstrom scored the game-winning goal to lift UMass Lowell to 4-2-0 overall and 2-1-0 in Hockey East, while the Terriers fall to 2-3-0 overall and 1-2-0 in league play.
Sophomore Vinny Saponari and junior captain Kevin Shattenkirk each netted their first goals of the season in the second period for BU, while sophomore goalie Kieran Millan stopped 18 shots.
Sophomore Michael Scheu and senior Chris Auger also scored for the River Hawks, while senior Paul Worthington tallied a pair of assists. Senior Nevin Hamilton made 24 saves in net to earn the win.
UMass Lowell earned the first three power plays of the contest and Scheu capitalized 9:32 into the game, knocking in a puck in front of the net for the only score of the first period.
Saponari leveled the score 5:13 into the second period, sending in his own rebound after freshman Wade Megan helped settle the puck, with sophomore David Warsofsky picking up the second assist on the play.
Auger put the River Hawks back on top less than a minute later when he netted his first goal of the season from close range at the 5:56 mark.
UMass Lowell took advantage of another power play at the 13:49 mark as Holmstrom took feeds from Worthington and Kory Falite and beat Millan for the eventual game-winner.
Shattenkirk's goal 59 seconds later was a trio of firsts for BU as the junior captain potted his first goal of the season off first assists from Alex Chiasson and Colby Cohen. Hamilton was solid in net towards the end of the second period, which saw a handful of scoring chances for BU.
Neither team could take advantage of the four power-play opportunities in the final stanza and both Millan and Hamilton were solid through the period, stopping five and 11 shots, respectively. The Terriers pulled their goalie with less than two minutes to go, but the seventh BU penalty of the evening stopped the extra-skater threat for the hosts and led to the 3-2 final.
The Terriers hit the road in their next game, heading across town for a conference showdown with Northeastern on Friday, Nov. 6 at 7 p.m.