Saturday, January 2, 2010
BOSTON UNIVERSITY ROLLS PAST MASSACHUSETTS, 7-3
Colby Cohen registers two goals and two assists for Terriers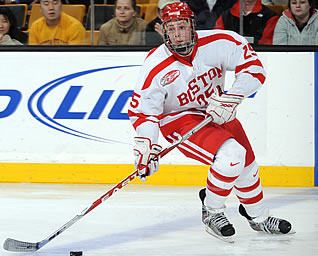 Colby Cohen scored two goals and two assists for the Terriers
BOSTON, Mass. - Highlighted by two-goal efforts from both senior Zach Cohen and junior Colby Cohen, the Boston University men's ice hockey team opened the 2010 portion of its schedule with an impressive 7-3 home victory against No. 15 Massachusetts on Saturday afternoon at Agganis Arena. The Terriers, who converted three of their six power-play chances on the day, improve to 5-9-3 on the year and 3-7-2 in Hockey East play.
Colby Cohen set career highs in goals (2) and points (4), while Zach Cohen added an assist to post a career-best three points. Junior Kevin Shattenkirk matched his personal best in assists with three and senior Eric Gryba, junior Nick Bonino and freshman Alex Chiasson each potted a goal in the victory.
UMass, which fell to 11-7-0 overall with a 6-5-0 conference mark, was paced by sophomore Casey Wellman, who recorded a goal and an assist. The Minutemen scored all three of their goals on the power play but had 12 chances to do so, as BU was whistled for a season-high 13 penalties.
BU held a 2-1 lead after the first after all of the opening period's goals came on the power play. Bonino opened the scoring at 12:13 when he knocked home a loose puck in the crease, but UMass answered less than five minutes later on a goal by sophomore T.J. Snyer with the man advantage.
The Terriers took the lead for good with just under a minute left in the first when Chiasson curled around the left circle and beat UMass netminder Paul Dainton on a shot from the slot on assists from Colby Cohen and freshman Max Nicastro, who added another helper in the third for his first two-point game as a Terrier.
In the second stanza, both Cohens scored their first goal of the contest, beginning with Zach's at 9:54 to give BU a 3-1 advantage. Wellman got the Minutemen back within one with his league-leading 16th tally on the power play at the 14:10 mark, but a hard slapshot from the left point by Colby Cohen eluded Dainton in the closing seconds of the period to reestablish a two-goal cushion at 4-2.
Zach Cohen potted his team-leading eighth goal of the season on a power play just under two minutes into the third to make it a 5-2 affair.
The Minutemen attempted to make it a game midway through the period when senior Will Ortiz scored his ninth goal of the season on a power-play, but the Terriers sealed the win will goals from Colby Cohen and Gryba. Gryba capped the scoring at 17:56 with a clear that went three-quarters of the length of the rink on a 6-on-3 situation for UMass, which pulled Dainton while already enjoying a two-man advantage.
BU held a 29-23 shot advantage for the game and received a 20-save performance in goal from sophomore Kieran Millan. Dainton made 22 stops for the Minutemen.
The Terriers now look ahead to one of this year's most anticipated college hockey games, as BU will face archrival Boston College in an outdoor game at Fenway Park on Friday (Jan. 8) at 7:30 p.m. The contest will be broadcast live on NESN and the NHL Network. UMass next plays on Saturday (Jan. 9) in a 7 p.m. road contest against New Hampshire.