Saturday, October 3, 2009
TERRIERS SKATE TO 2-2 TIE WITH ST. FRANCIS XAVIER
NIck Bonino and Corey Trivino score BU goals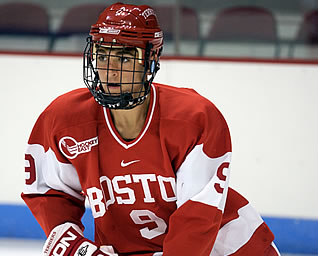 Corey Trivino scored a goal for the Terriers
BOSTON - The 2009-10 Boston University men's ice hockey team made its first appearance of the season on Saturday evening, skating to a 2-2 tie with St. Francis Xavier in an exhibition contest at Agganis Arena. The Terriers held a late 2-1 lead after goals from junior Nick Bonino and sophomore Corey Trivino, but the X-Men knotted the game with 2:21 left in regulation and received an impressive 51-save performance from goaltender Joseph Perricone.
Sophomore Kieran Millan stopped all seven shots he faced in the BU goal before giving way to junior Adam Kraus, who played the final 34 minutes and made seven saves on nine shots. Perricone made 18 saves in both the first and third periods to keep the visitors in the game the entire evening.
The Terriers opened the scoring at the end of a first period that saw the home team outshoot the visitors by 19-3 margin thanks to three consecutive penalties on the X-Men in just over a minute. SFX fought off BU's ensuing 5-on-3 advantage, but Bonino knocked home the puck from the foot of the right circle for a power-play tally at the 18:57 mark. Sophomore Andrew Glass and freshman Ben Rosen assisted on the play.
The X-Men tied the game off a faceoff win in the BU zone at the 11:58 mark of the second. Nick Pageau's shot eluded Kraus and snuck inside the left post, as Brennan Wray and Brent Morrison earned assists on the play.
BU regained the lead less than four minutes later, as a turnover by SFX behind its own net proved costly. Freshman Alex Chiasson got a stick on a loose puck parallel to the goal on the left side and sent it out front, where Trivino was there to send it past Perricone at the 15:50 mark.
The Terriers, who held a commanding 53-16 shot advantage for the game, recorded 18 shots to the X-Men's three in the third period, but the visitors scored the lone goal of the stanza with just 2:21 left in regulation. Bryce Swan knotted the game-tying goal on a power play with helpers from Ryan Sparling and Morrison.
Each team recorded just one shot in the five-minute overtime session and the teams settled for the draw.
BU will return to action on Saturday, Oct. 10, for its second and final exhibition of the preseason, as the U.S. National Under-18 Team visits Agganis for a 7 p.m. contest. The Terriers will raise their 2009 national championship banner in a pregame ceremony.