Friday, December 11, 2009
BOSTON UNIVERSITY FALLS TO RENSSELAER, 5-3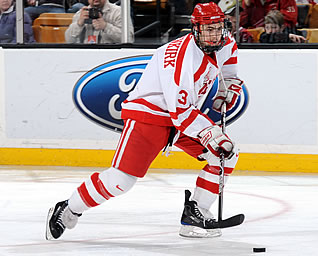 Kevin Shattenkirk scored a goal for BU
BOSTON, Mass. - The Boston University men's ice hockey team took a 3-2 lead into the third period but Rensselaer managed three third period goals to pull out the 5-3 win Friday night at Agganis Arena. The Terriers close their 2009 portion of the schedule with an overall record of 4-9-3 and a 2-7-2 conference mark while the Engineers move to .500 at 9-9-1 on the season.
Junior captain Kevin Shattenkirk gave BU the lead at the 9:55 mark of the second period on a heads-up play during a penalty kill. Engineer forward Tyler Helfrich fired a shot on the Terriers net but Shattenkirk blocked it cleanly, collected the puck and took it the length of the ice for his third goal of the season. Classmate Nick Bonino started the game's scoring with a short-handed effort, converting passes from Chris Connolly and Shattenkirk just 2:02 into the game for an early 1-0 lead.
A pair of RPI goals just 19 seconds apart gave the Engineers the lead at the end of the first period as Alex Angers-Goulet and Bryan Brutlag both netted their third goals on the season to put the guests up 2-1 after the opening stanza. Zach Cohen needed just 3:10 of the second period to even the score with his team-leading sixth goal, a power-play effort off feeds from Max Nicastro and Corey Trivino.
The Engineers pulled even once again midway through the third with Erik Burgdoerfer collecting his first goal of the season off assists from Patrick Cullen and Joel Malchuk. A Christian Jensen goal at 06:02 gave RPI the lead for good and an empty-net score with 53 seconds left sealed the 5-3 win for the Engineers.
BU goalie Kieran Millan finished the game with 20 saves while Rensselaer's Bryce Merriam stopped 32 shots in the win. The Terriers outshot the Engineers 35-25 for the game.
BU next takes the ice in 2010 as it faces off against Massachusetts in a 4 p.m. game on Saturday, Jan. 2 at Agganis Arena.